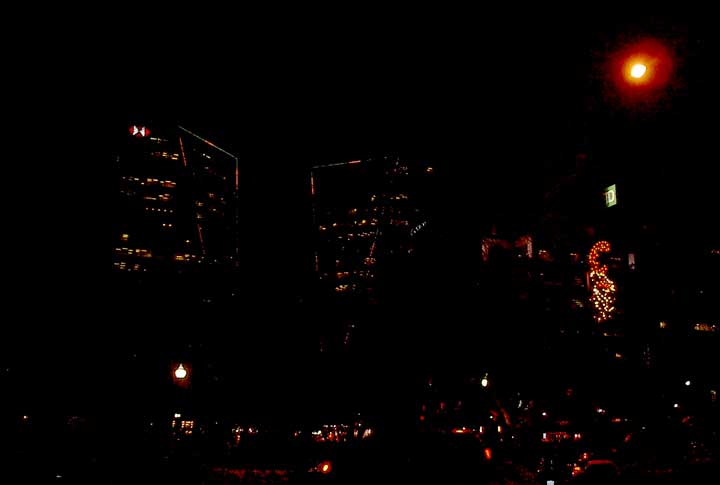 Regina, December 2003
FTLComm - Regina - Thursday, December 11, 2003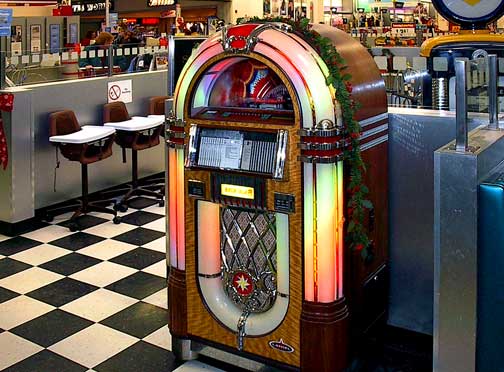 I first came to live in Regina in the fall of 1962 as a seventeen year old in what was then called the University of Saskatchewan, Regina Campus. Since then I have worked in the city, finished my degree and did graduate studies, so that I have seen Regina for over forty years as it has changed and in so many ways, stayed the same.

This week I spend three days running errands and roaming around a place that I should be pretty familiar with, yet I swung into a street that is now a dead end and has been for more than twenty years, but I remembered how it once had been. In some ways, the past is really always with us, it just looks different.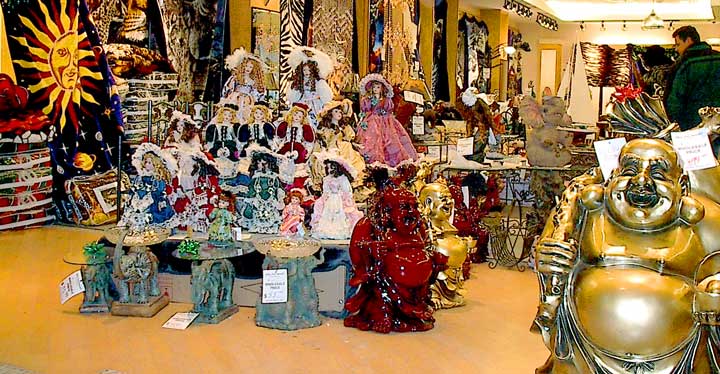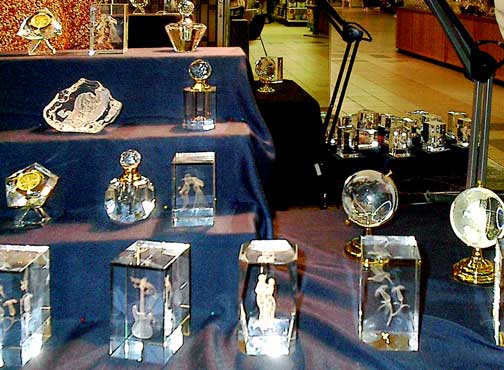 I suppose that one of the things that I as a country person, always consider Regina as a place to go shopping and in one of those dashes through the Victoria Square was impressed with buddhas and Victorian dressed dolls in the same display, or, these fascinating laser created etchings in the centre of glass blocks. I did little shopping but spent about forty-five minutes in London Drug and another twenty-five in Wal-Mart and after that experience decided I would do everything I could to dodge urban shopping this Christmas. It was 8:30 in the morning when I was in Wal-Mart and the Christmas music gave me nausea. Wal-Mart is being investigated for "racketeering",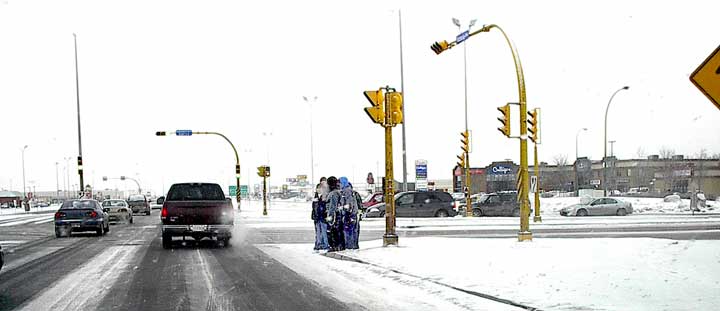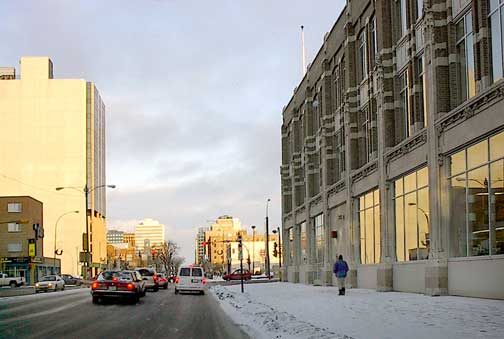 fights to prevent its workers from unionising and is playing "Oh Come all ye faithful."

In one Regina neighbourhood I noticed several cars with plastic taped over their windows having been damaged in break-ins. Regina has and continues to struggle, with its crime rate, which is the highest in the country. Its centre, mutilated as the Superstore and other retail outlets have abandoned the core.

The Youths above are dashing across to a mall at lunch time from their high school a couple blocks away.

On the right is the head office of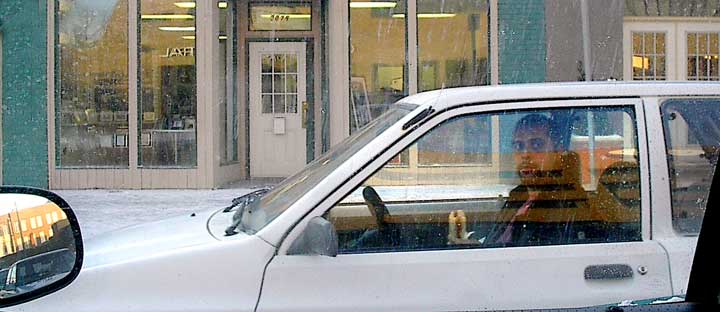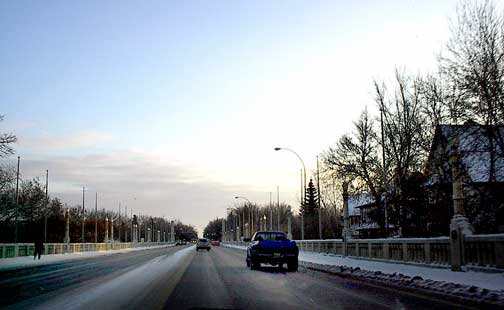 what once was one of the most successful co-op in the country until it decided it should become a private corporation, destroy all of its profitable wooden elevators and borrowed money to build unprofitable concrete ones when the province was experiencing the worst drought in history. Yesterday, the Saskatchewan Wheat Pool Corporation who's shares are now worth 42¢, announced yet another year of loses.

Albert St. bridge (right) beside the now empty Wascana Lake as earth moving equipment is at work near the by-pass.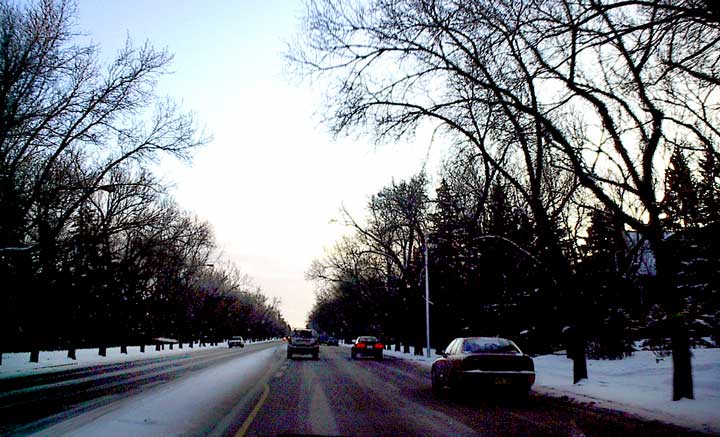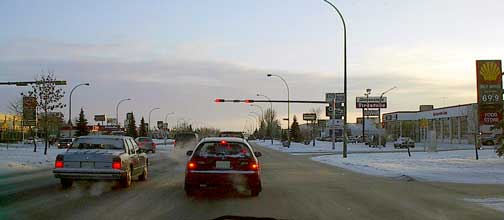 Albert St. is the core of the Regina I know and is much smoother then it decades ago as traffic flows up and down this corridor I noticed far fewer buses than was once the case. During the three day visit I only saw one crash and it was on Albert Street a block South of the Legislature building where a lady will have a substantial SGI claim for removing the front of her Crown Vic on the back bumper of a Astro Van.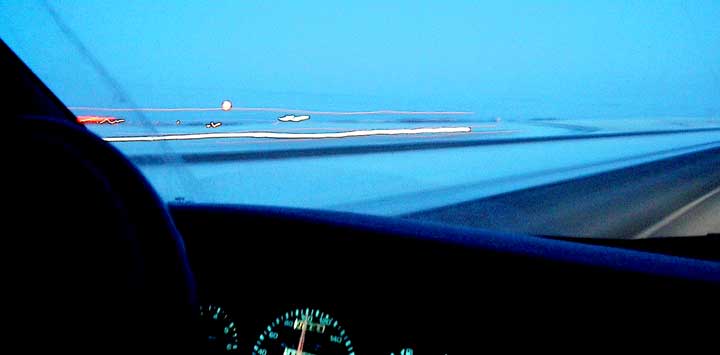 I stayed out at Emerald Park and each morning I was impressed with the massive amount of in bound traffic, not at it volume but its velocity. The picture above was at 9:15 outbound and this image is looking back at the city from the camera mount with the city behind. At 7:30 the bumper to bumper traffic heads for the city at 130kph right to the first set of lights.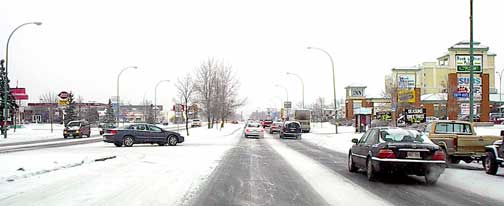 Wednesday afternoon there was a little snow as I was once again heading down Albert, heading North and eventually home. It is hard to understand the remarkable spread between the incomes of those who live along this wooded street in houses that can be easily worth $1,000,000 each and those who live North of Dewdney or in other crowded low income areas of the city.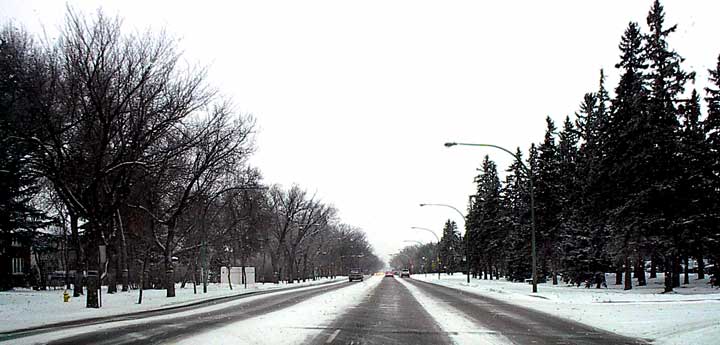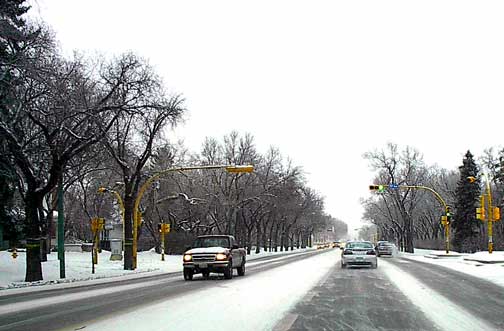 It seems only a short while ago I was cruising up an down Albert on a Friday night in Martha (1939 Pontiac) watching the muscle cars hurl to each light, rev their engines for green and smoke off to the next red.

Below is familiar terrain as I used to walk this stretch each day to and from the campus past the high tech giant of the day, IBM which proudly displayed their equipment with its card sorters and card punch machines when a "Selectric" was the ultimate machine to produce a document. 13th Avenue (two blocks North) has become the "Cathedral area" and is showing great promise as a neighbourhood.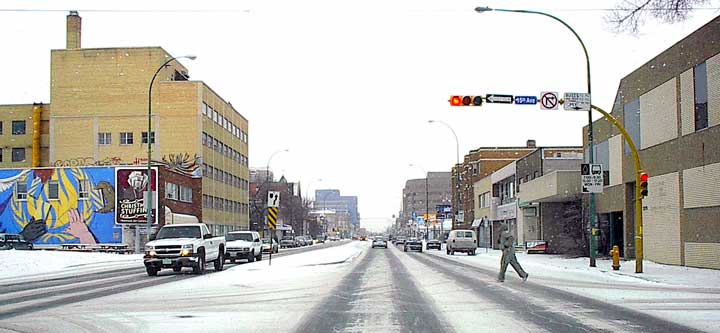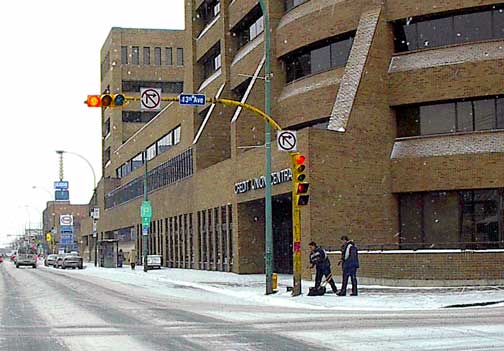 The Credit Union Central (right) is a remarkable addition to Regina, leading the country in the use of online banking from this office building on the corner of 13th and Albert. Across the street the GM dealer (Capital Motors) has been long gone for more that two decades and even the Embassy Cafe on the opposite corner has changed hands.

Centennial Mall was one of my stops, once the Eaton's Domion Mall, now the home of Sear's bargain centre. I found two interesting shops in the mall besides the amazing used book store. The image below illustrates the one shop's curious stock with it large figures.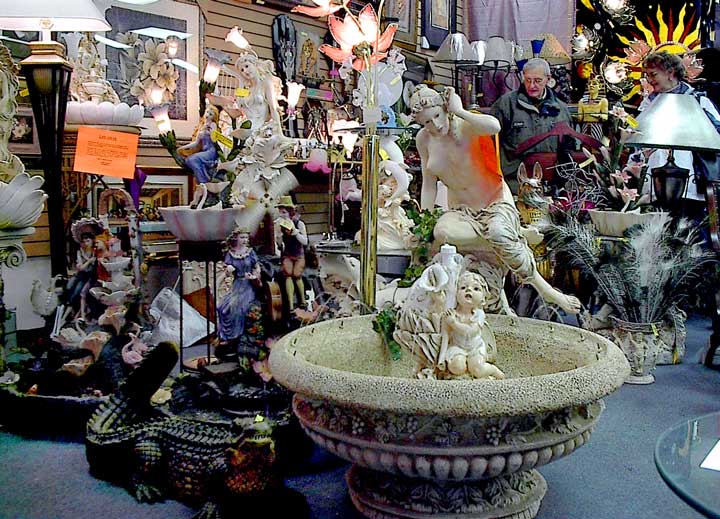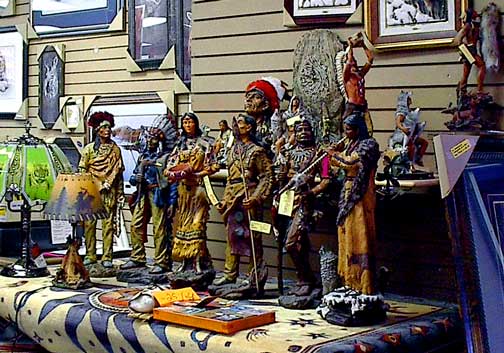 This same store had a remarkable collection of these somewhat romantic interpretation of First Nation's people. These figures are each about fifteen inches tall.

There is a little shop across the hallway from the Centennial Mall barber shop called Just Looking Fashion with a whole collection of pretty exotic items. I spotted the cool sofa (below) through the window and had to come in and get a picture. Ina-Joanna Lojewski ( 306 525-2288 ) explained to me that the lights on the seat work. When you see a product like this one you realise immediately the giggle involved in shopping for stock for a store like this one.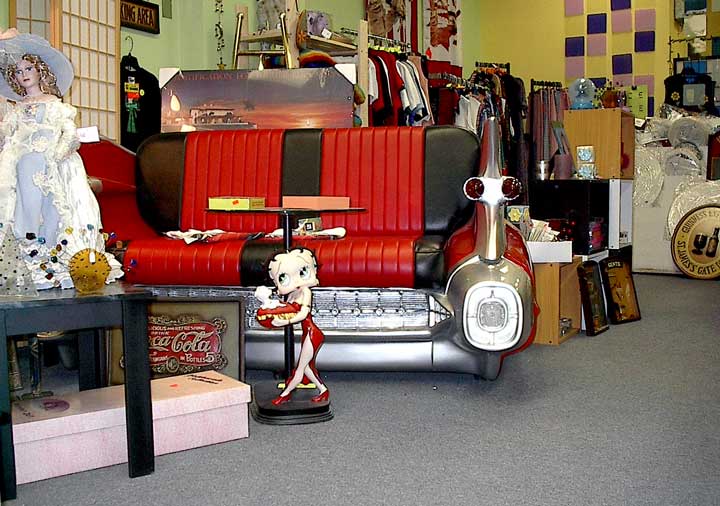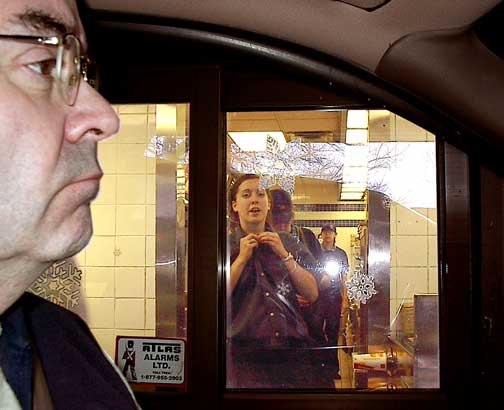 Before heading out on the highway I decided to indulge in a forbidden Macdonalds sundae.

Regina is now almost entirely a donut city. The centre is devoid of the major businesses and its market places are now on the East fringe of the city, the Southland and Northgate Malls and the development around the New Northwest Superstore on the way to Lumsden.

With all of this commerce and twice as many people this city now has it can not afford to maintain its library system developed when Regina had less than 100,000 citizens and electric street cars. Its home owners pay healthy tax bills but one wonders if all those big box corporations are contributing their share to the upkeep of the city. All of the three libraries slated for closure are in the lowest income areas of the city, those same areas with no, or very poor, public transit to the city's retail outlets who now serve as a sort of perimeter to the city.

Three days were more than enough in Saskatchewan's capital city and the crime capital of Canada. Regina is a work place for commuters who live in Pilot Butte, White City, Grand Coulee, McLean, Lumsden, Craven and Moose Jaw. However, I did not see the kind of beggars one meets in Prince Albert, the spungee guys one encounters on Winnipeg intersections or the fire trucks and blocked streets one sees on almost every visit to Saskatoon as they deal with random arson events. The trend for Canadians to want to live in urban areas is for me, one of those strange mysteries that even though explanations are made, things just don't add up.
---
Return to Ensign - Return to Saskatchewan News
This page is a story posted on Ensign and/or Saskatchewan News, both of which are daily web sites offering a variety of material from scenic images, political commentary, information and news. These publications are the work of Faster Than Light Communications . If you would like to comment on this story or you wish to contact the editor of these sites please send us email.
Editor : Timothy W. Shire
Faster Than Light Communication
Box 1776, Tisdale, Saskatchewan, Canada, S0E 1T0
306 873 2004