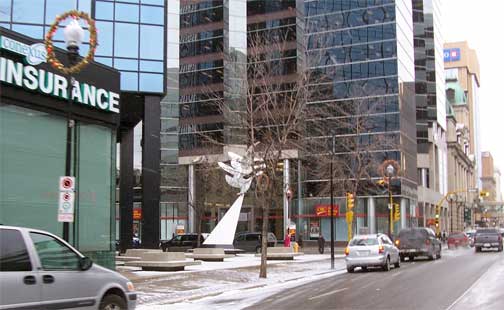 I have a few minutes spare time on Tuesday before I was due at an appointment so I decided to head down the main thoroughfare of the province's capital city. I remember the street very well from my days as a seventeen year old and collage freshman coming up from the station (on the right one block away from this intersection) and staring in amazement at the big city.
In 1962 looking west down Eleventh Avenue as we are in these pictures you would immediately have noticed that the traffic was going both directions and there were still rails embedded in the pavement and working overhead lines for the still in-use trolley buses.
Only the Drake hotel (top picture left) is original everything else has changed since then. On my right in the top and second picture was the Army and Navy store which has just been taken down and a new construction project is in progress. On the left is a vacant lot where once stood a very impressive theatre gone now for more than two decades. In the picture below just peeking out over the street with its copper roof is the old city hall and the location of the Globe Theatre.
Kresges, Woolworths and the Simpson stores were on these two blocks and on this intersection instead of the walk lights there was a huge city policeman, Whistlin' Willie who controlled pedestrian traffic and this was his domain.