Cities are not a blight on the landscape, for the most part, Canadians have become city dwellers and as such, we should do something about these places.
It was not long ago that Canadians were a highly agriculturalist society spread out over the vast regions of Canada living on farms, villages and small towns. That is the Canada I was born into, but I have lived to long and the country has steadily, since the middle of the twentieth century, seen its population concentrate in urban centres. Not just farms fading into the economic obscurity of the evolving world, but new Canadians rarely consider moving to anywhere but Canada's cities and mostly they want to go to Canada's largest city.
Industry and economic development has changed what Canadians do, certainly some still dig in the ground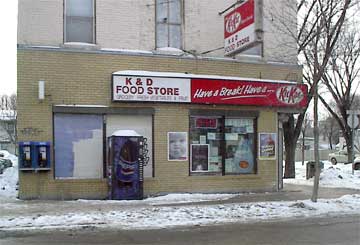 as they work to exploit Canada's mineral and petroleum wealth, certainly some still work up the land and attempt to eek out a living as a farmer, a small business man, and there are still some who live and work in small Canadian communities like the one I live in and prefer to live in. But, the miners, oil workers, farmers and small towners are a fringe of the greater Canadian society. Cities are where you will find most Canadians.
I remember my first visit to the big city, yeah, it was Winnipeg, I was just a little kid and I was absolutely amazed at the grandeur of the railway station and we did some shopping then took a bus to the end of the line and then walked on to a rural community of Charelswood. Today, Charleswood is just another part of Winnipeg is it sprawls out in all directions from the corner of Portage and Main.

A week ago yesterday, Judy and I drove down Portage Avenue and made the video (below) that was posted that day on this site. With the camera churning away, we made the turn onto Main North and after a few blocks shut the video down and it was time to go back to the apartment and process the project for the site. Instead of retracing our route, I turned the van west off of Main and head across the city.
Now we have prowled around North Winnipeg before and there are some pretty tough neighbourhoods with burned out buildings and vacant lots by the score, but on this trip it was staggering to discover how vast the Winnipeg slums are.
It was this part of Winnipeg that saw the rise of the great general strike and the development of the Canadian Communist Party and the foundation of the CCF. Winnipeg's North side was the part of the city the Eastern European immigrants settled to make their new home in a new nation and their great grand children are still in the city along with tens of thousands of aboriginal people who have moved from the oppressive poverty and over crowding of their reserves and are trying to make a go of it in the poorer part of town.

By no means are the slums of Winnipeg unique, all of Canada's prairie cities have them and they are growing exponentially. Brandon, Yorkton, Regina, Saskatoon, Prince Albert all have a substantial portion of their cities dedicated to the kind of life that we all assume belongs in Detroit in the pre-1968 days. Ghettos, that's what I am talking about and because Canadians, no matter what their ethnic background might be, are basically good law abiding folks, we have not yet experienced the riots and horrors that come with racial and economic disparity seen in the United States in the late sixties.
But, the signs that things are not working out are there. Crime once confined to the movie screen is common place in these, once marvelous urban communities. On Wednesday of last week a nineteen year old son of a shopkeeper in Brandon was shot and killed in a hold up and it didn't even make the news outside of his city. Gang conditions in Saskatchewan and Winnipeg are the way of life and police violence in Saskatoon and perhaps other communities as well, is just as much a problem. Frustration is the keyword and I can't see anyone doing anything that is going to turn things around.
Winnipeg had an aggressive mayor who put in place a plan to revise the way of life in his city and that ball was dropped when he resigned in an unsuccessful attempt at federal politics. Regina is activity concerned with their high crime rate but little effective programmes seem to be in place, while Saskatoon is so busy denying that a problem exists that one wonders if Saskatoon people ever look outside to see what is going on.
As a kid I had never seen a street beggar and now they are as common as litter in Winnipeg, Prince Albert, Regina anddowntown Saskatoon.
Is there some instant solution to this landslide that is being engineered by neglect and conscious ignorance?
Absolutely not!
Unless the people of Manitoba, the people of Saskatchewan accept the realisation that they are in the midst of a crisis, the conditions will merely add to the problem. To make Canada's cities abundant wonderful places to live and work, will require the willingness of the tax payer to fork out money, the city politicians to seek positive means to improve conditions, provincial governments willing to focus on real issues like this and the financial participation of the Federal government to get some decency into the lives of Canadian people.