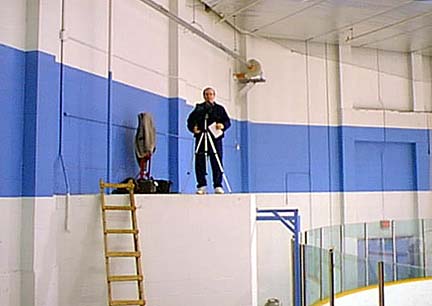 FTLComm - Tisdale
December 21, 1998

It all started rather innocently with a camcorder six years ago with two boys playing hockey and a desire to capture their games on tape. The original attempts were boring and just catching a few plays didn't get the feel of things so it was decided to shoot the whole game, but that too was boring, commentary and play by play was added and there was a story and the we have closets of tapes from season after season of games.

With the sons no longer playing, the passion for the game remains and Timothy Shire still gets out and records a game when ever some one wants one. From a perch atop the zamboni room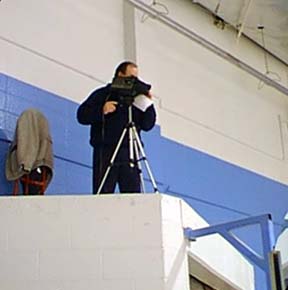 the game is recorded and copies can be ordered. So far this season we have a "Fat Boys" Game, the Trojans game against the Mallers on December 12, their game against Prince Albert on December 18 and the Rambler game against Kinistino from Saturday night. If you would like a game taped let us know (873 2004) or if you would like a copy of one of these games they are $15.

Below is the second goal of the Trojan's December 18 game with Jason Little drilling one in.