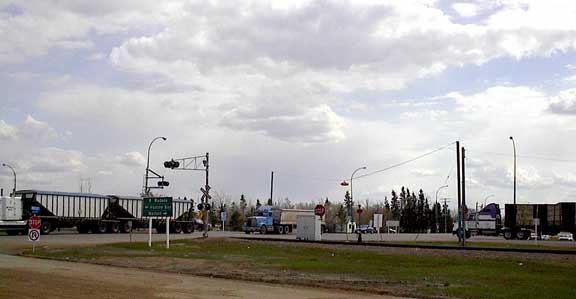 The new normal
FTLComm - Tisdale - Friday, May 2, 2003
Yesterday morning on the CBC radio "1" show "The Current" they were discussing the SARS topic as it relates to the centre of the universe (Toronto) and one health official pointed out that it was going to have some positive effects as health care workers in hospitals have moved up the level of prevention several notches and this is now the "new normal". It was mentioned that after the September 11th attack in New York that the term the "new normal" began to be used but we have to consider that what life is about is just that, adjustments to changing conditions.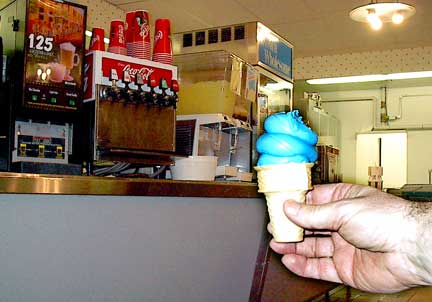 I am still hung up over the remarkable transportation revolution that sees the tax payer having to bear the whole burden of moving goods by truck on public highways. I realise I should get over it but the obvious is so obvious, its not working and one day we will see railroads or something like them built to replace the impossibly expensive and ridiculously inefficient trucking system. For me the new normal is a step backward in time, perhaps more than a century backward.

Yesterday I decided to finish off my lunch with a small ice cream cone. Now the new normal in Tisdale and that is at both the Co-op and at Chicken delight is that when you order and ice cream cone they will ask you, and with a completely straight face, do you want it in a dish or in a cone. I can''t resist this plain stupid response and I always say "I thought I said cone, doesn't that mean a cone?" Each time I get a really dumb response that people mean a dish when they order a cone. Yeah that makes sense to me. My guess is if I order a dish of ice cream they would ask me would I like it in a dish or in a cone. This stuff was blue, now the sign said 'Blueberry" but there was not a single discernible hint of any flavour other than vanilla, so what I got was a vanilla ice cream cone with blue food colouring. I suppose that's the new normal.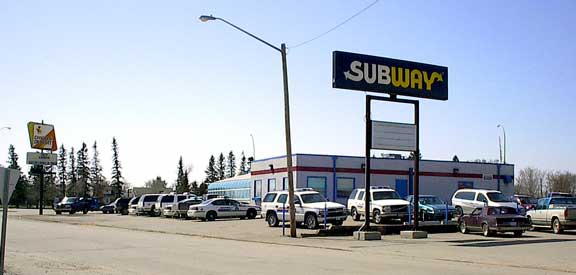 Tisdale has around two thousand people who live and work here yet check out the Chicken Delight parking lot yesterday if you count them you will discover no less than seven police cars or a ratio of 286 people for every police car. One wonders about a society that has seven police cars and not a single taxi. That's over a quart million dollars in police cars to be maintained, filled with gas and washed no wonder this country has military helicopters older than the policeman who drive all those police cars.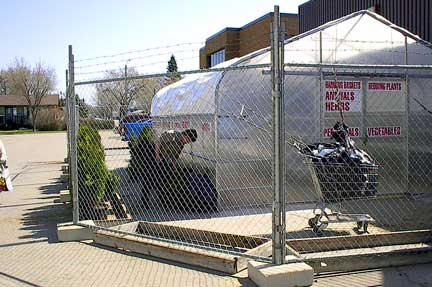 The Canadian military has one hundred Griffon helicopters for carrying soldiers and what not worth $11 million each. So each Canadian has $34.38 invested in helicopters for our army and each person in Tisdale has $140 invested in police cars. In other terms we have enough police cars to do a Hollywood movie or a ratio of one police car for every seventy-one cars in town.

The co-op is into a new normal mode as it opens its garden and bedding plant market on Monday and this year it will be at the North end of the building.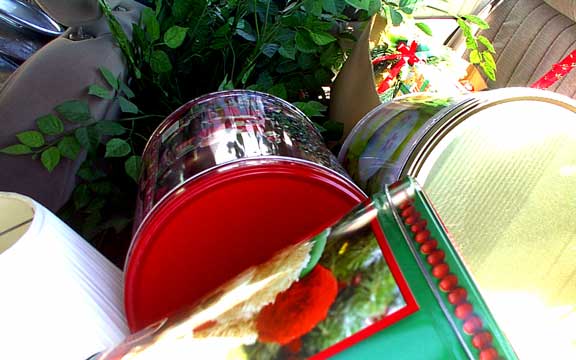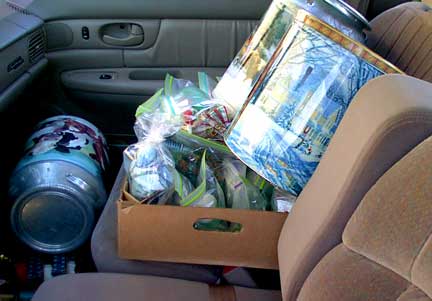 Tisdale and likely every other community is holding a festival of garage and rummage sales. This car was seen yesterday loaded up going to, or coming from a sale.

Yesterday the United States President announced that the fighting in Iraq is over but look out anyone else cause America is ready to go after anyone who offends the great liberty lovers. Definitely a new normal situation.

Today the United States, the country that heralded a new era in North American trade by establishing free trade with Canada and Mexico slapped on something like 20% tariff on some grain from Canada claiming that the Canadian Wheat Board is "dumping" grain on the US market below production cost. Duh! isn't that the same country that forks over something like $75 an acre in subsidies to its grain producers? Once again I think we have another "new normal."

Kevin McIntyre, from Carrot River is an astute observer of the ways of humans and has his observations about the "new normal":
When the World Health Organisation lifted the travel advisory on Toronto I flipped on CFTO News to see if they were dislocating their shoulders patting themselves on the back [they were].

Second story, gas prices had fallen again to 59.9¢. Gee, our prices still are 76.9¢. I guess its cheaper to haul from the oil wells and refineries out West to Ontario than it is to stations within Saskatchewan.

Meanwhile today the Amazing Kreskin is in Toronto to exorcise the germs and make the city safe.

And you wonder why we have gun control?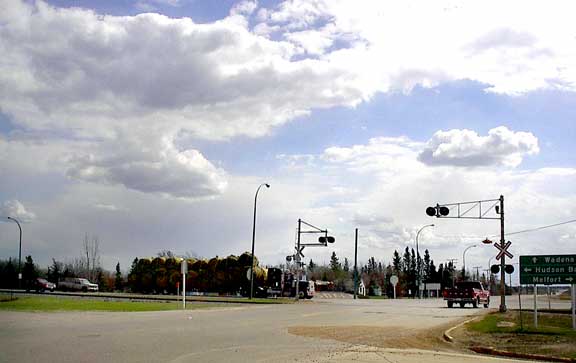 In the mean time folks the temperature encouraged people to be out and about with out jackets and right now at 5:18 it is 19ºC with a few puffy clouds around suggesting a chance for a shower or two tonight and perhaps some tomorrow afternoon.

But this is the weekend to stock up, if you want to hold a garage sale of useless items that you don't need there are sales all over town just waiting to provide you with inventory.
---
Return to Ensign - Return to Saskatchewan News
This page is a story posted on Ensign and/or Saskatchewan News, both of which are daily web sites offering a variety of material from scenic images, political commentary, information and news. These publications are the work of Faster Than Light Communications . If you would like to comment on this story or you wish to contact the editor of these sites please send us email.
Editor : Timothy W. Shire
Faster Than Light Communication
Box 1776, Tisdale, Saskatchewan, Canada, S0E 1T0
306 873 2004