When a company, and in this case the largest most profitable bank in Canada changes its name I immediately wonder what is it trying to hide, or if it wants to change its identity. What does it want to become? Some years ago it was discovered that using the word "fried" in the name of a fast food chain had an unhealthy connotation for customers and Kentucky Fried Chicken became KFC.

When I asked a bank manager of the largest branch of this financial group why the name change, I was told that it is part of a renewal and revitalising programme, a sort of "get with the times" effort and noted that Canadian Imperial Bank of Commerce became CIBC, just as Toronto Dominion Bank became TD and the Bank of Nova Scotia became Scotiabank.

Well indeed that was a plausible explanation but not a convincing one. Kentucky Fried Chicken knew that the public thought grease was bad and decided to hide that fact in its name and what is there about "Bank" that might be similarly distasteful or repugnant? Bank is a simple noun and describes what we all consider the function of a financial institution, the kind of place that Stephen Leacock wrote about being "rattled" the kind of place Robert Service earned a living while observing the gold rush. But the new name the Royal has gone with is RBC Financial Group, the very name of its infamous illegal stock trading branch which had a dozen or so of its executives nailed by the Ontario stock market commission.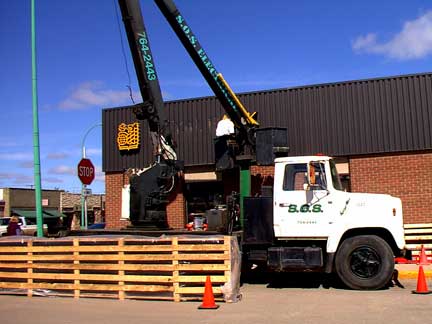 Is it possible that this extra ordinarily profitable corporation wants the public to associate it with corporate corruption and nefarious stock market manipulation? I think not, it is more likely the company wants to be no longer a bank. Being a bank invokes the concept of an honest fair minded picky outfit that looks after deposits and handles cheques. This company is making its lute on banking charges, monstrous charges on every little deposit and withdrawal. The move by the public to electronic banking has meant that charges can be placed on things which in the past would have resulted in a discussion at a wicket about helping themselves to your bank account. Now with electronic withdrawals and transactions they can just help themselves to a few pennies here and a few pennies there and before you know it they have billions in profits.

Studies are showing that the average individual withdraws from an ATM the minimal amount. This curbs their spending but also reduces their risk of losing cash. This also means that there will be lots and lots of withdrawals and each one is . . . well, money in the bank, no not your bank, but the financial group.

With interest rates flat the banks, all banks, have realised enormous profits from helping themselves to their customer's accounts and there is nothing you can do about it. We discovered a monthly $8.00 charge on our business account for a service we never use but can not get it off because the financial group has made making changes like that almost completely impossible. Hours on hold on the telephone, it can't be altered at the branch, a whole set of perimeters have been established to make sure once you are paying a fee the financial group gets its money, month after month after month.

It was over the last two years that this company's branches no longer have working telephones. Oh they have phones on their desks, but those are for calling out of their office and voice mail barriers prevent any calls to them. If you ask a live person at a branch about something it will be handled somewhere else, or you can call this 1-800 number and spend the rest of your lifetime on hold, unless it is something that will add another deduction from your account and then the service is quick, swift and unreversible.

Perhaps we might speculate on what RBC really means. Please forward us your suggestions. Here are some to consider:
Really Bad Company
Ron, Brad and Charlie
Run by cousins
Reasonably Big Clowns
Rational But Crooked
Retrained By Conservatives
Revenue By Coercion
Respected but corrupt
Ready but confused
Reworked Business Concept
Red, black, crimson
Rutabaga, beans, cabbage
Rhubarb, basil, corn
Remain beside curb
Rush back calculation
Remember big cheque
Refuelled by coffee
Rich boys club