SGI Asks For Your Opinion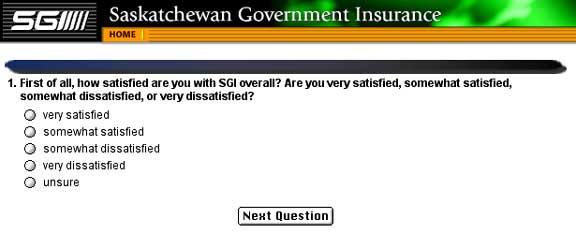 FTLComm - Tisdale - January 26, 2001
Its hard to tell if a survey is really a survey or just an attempt to pretend to be doing something about public relations. Most likely this project falls somewhere in between the two and might be well worth your while to go have a look and fill out their online questionaire.
Compared to many online surveys this one is short and direct, the wording is much more objective than what was seen in the confusing and "think our way" survey that is part of the Fief medicare survey. It should take you only a few minutes and the database software is very nicely done to move you to the next question based on the response of the prior one.
The most important issue is that SGI's attitude in the past has been so bad that this survey is truly refreshing and I hope they pay even a tiny bit of attention to the results because this is a publicly owned company that has been acting so much like a foreign conglomerate.
To get to the survey, or to find out more about the no-fault programme click here or on the picture at the top of the page.