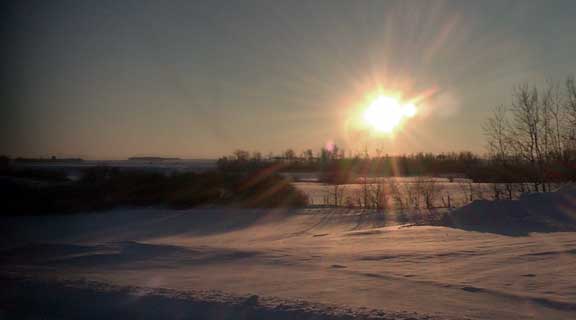 Here Comes The Sun
FTLComm - Tisdale - Friday, February 1, 2002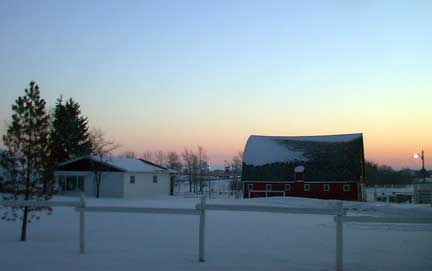 January''s week long cold snap was started to moderate but Thursday (January 31) morning it was -28ºC and it seemed pretty cold. These pictures are shown in sequence as they were taken between 8:30 and 9:30.

The empty windless sky gets very thin when the temperatures are low. The atmosphere that stands between us on the surface and the edge of space is flattened out as the cold air is very compressed and a clear night with very low temperatures (-40 and below)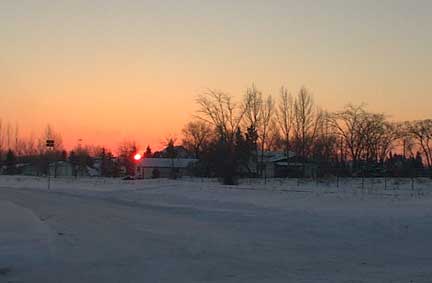 the sky is black. So the morning light on a cold day has a special quality to it as even as the sun slices through the atmosphere parallel to the surface at sunrise it still is passing through much less air that scatters the light giving us a blue sky.

Most private pilots love flying in low temperatures. The dense air gives you lots of lift, the aircraft engine acts like it is supercharged and there is almost no turbulence. A light aircraft is subject to a good deal of bumping along at most times because of the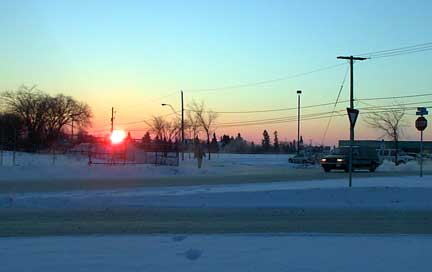 low wing loading, but in cold air it is like flying a jet as you slide over a glass highway above the landscape below.

As the sun made its appearance Thursday morning I was just North of TMSS as people made their way to class and buses steamed into the parking lot with frost covered windows and quick footed occupants who rapidly made their way to the warm doorway.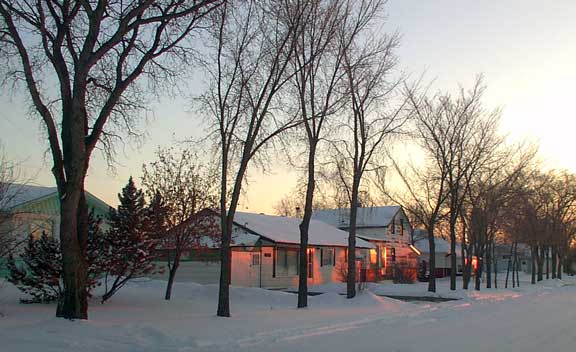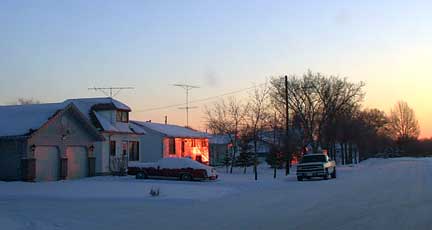 The shiny red disk fired up the South facing houses on this street.

The snow accepts the blissful blue that it reflects off the sky above. The single most attractive thing I find with the snow of winter is the marvels of the infinite shades of blue shadows. All winder long I feel privileged to be able to look out and see those shadows stretched out across a field or hiding behind a tree or post.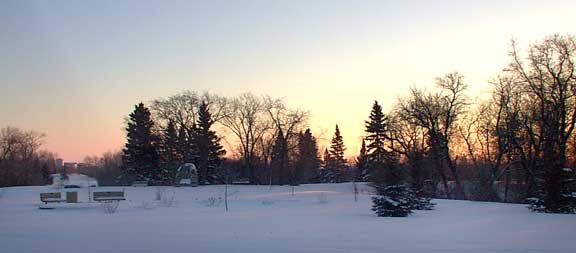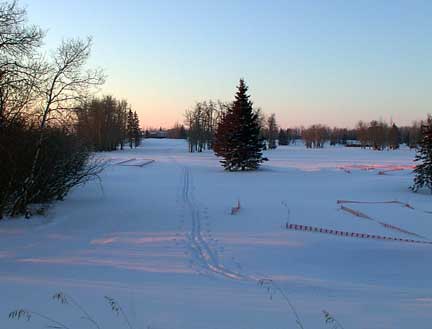 In the last decade cross country skiing which was enormously popular in the seventies and eighties has lessened in popularity despite offering the very best form of physical conditioning available. A few hardy souls still work their way around the golf course and along the Doghide. The new snow has produced some good skiing conditions. No groomed trails are available in the community so those who enjoy the sport break their own trail and no skating trails are around this community.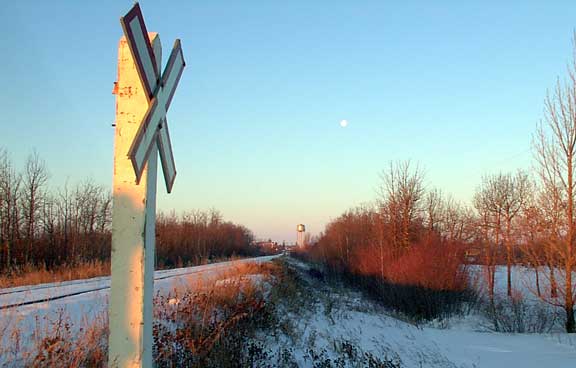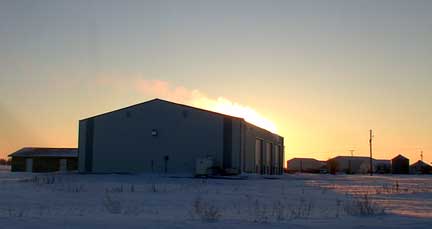 The most attractive entrance to Tisdale is on the CN line approaching from the East as you come into town past the golf course and over the Doghide. In the mid seventies trailers would routinely come into Tisdale on the Dayliner that ran from Hudson Bay and this was how so many would come and go using public rail transportation.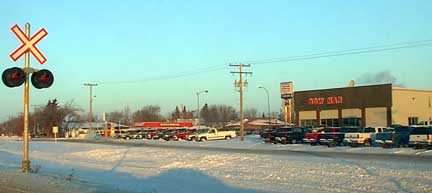 The clarity of morning light is seen in these images of the municipal garage, the riding stable and the sales lot of Bow Mar Sales Limited.

No collection of pictures of a Saskatchewan community would be complete without a shot of grain elevator so here we have the shining cylinders of Louis Dreyfus' terminal and a nearby country road.