---Sunday Sun
FTLComm - Tisdale - November 20, 2000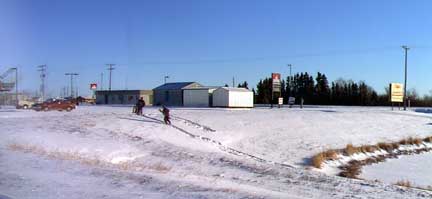 After several days of light snow and heavy skies Sunday the sky openned and everything was lit up. The picture above was taken just on the East side of town as the two boys on the right tried to find a good place to try out a snow board and slider. It is hard to find a good place to slide in a flat place like Saskatchewan but just being outside in the sun was reward enough.

The St. Teresa park is looking fine as people have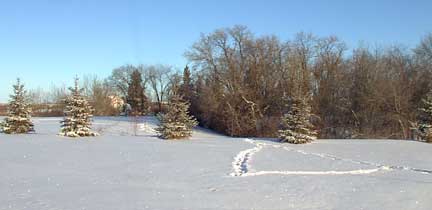 begun cutting in some cross country ski trails that loop around the golf course.

This row of ever green trees look like something that has been added this past summer or fall, with snow on them it was the first time I noticed them guarding this really outstanding park on the East side of the community.

But sunlight is the story, the picture below shows the glistening snow in our front yard Sunday morning.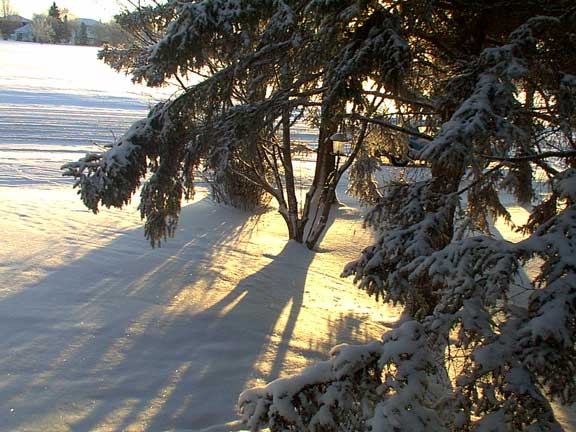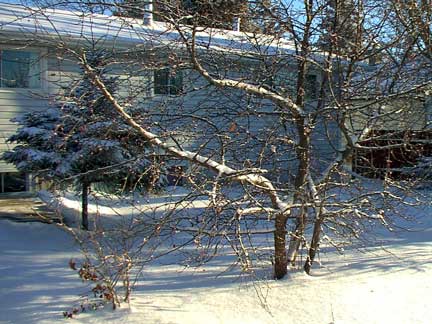 While the snow sitting on the barren branches in the back yard provide a gentile form of ornamentation. The wonderful thing about sunlight is the places the sun doesn't shine. The blue shadows of winter are a gift that I really enjoy and this picture has them in abundance.

Today the thin morning cloud has wasted away and once again the country is bathed in light. Its time to reach for the sunglasses.