Ambling Through and Beyond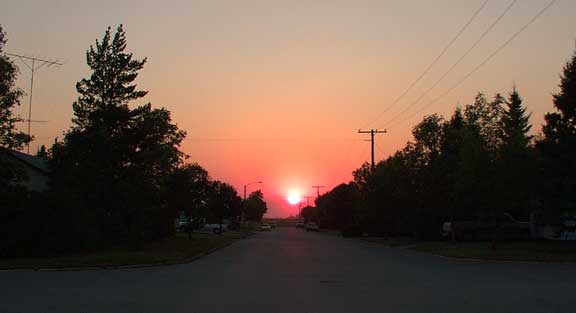 FTLComm - Tisdale - August 27, 2000


Saturday was a hot day as the temperature settled into a toasty 32 degrees celcius. But the breeze and perhaps just the advancing of the season has lessened the numerous blood transfusions as mosquitoes are losing out to dragon flies, allowed us to enjoy supper on the deck and the heat of the day faded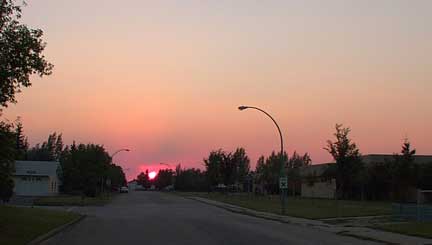 gently as evening swept upon
us with the rapidity of approaching fall.

As we set out to amble across town two red eyes stared at us across the old football field as the sun reflected off the windows of a house a block away. Then turning to look toward the sun is the image at the top of this page. In the time it takes to walk a block the sun had settled a little more as we look West in the picture on the right past the front of the elementary school. Northern Lights School Division has already had two days of classes but it will be a day or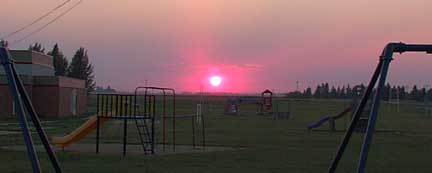 two before this playground
echoes with the sound of joyful voices happy to see a new year begin and the challenge of a new grade, a new teacher and new adventures.

The supplies have been bought, new pencil cases, sharpened pencil crayons, a ruler, at lease two erasers, a back pack and definitely - new shoes.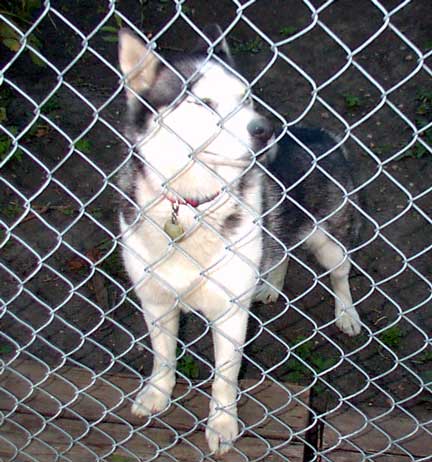 As we made our way down the alley beside the elementary school the dog I call Liberty cheerily came to the back fence to greet us. Peering through the heavy fence and the camera's automatic flash, do not let you see the piercing gray eyes of this sled dog. Dogs like this were bred to work and enjoy their toil, can laugh at the dull crunch of winter as they march along in a pack. Sled dogs like this one are fiercely loyal and besides their courage they are smart beings who expect to be treated with respect and will return affection and hard work for raw meat.

Though a husky looks similar to a German Shepherd, the common lineage from Lupus (wolf) gives them their similar colour but the smaller leaner and specialised nature of the husky sets them far apart from the guard dog and one owner singular association of the German Shepherd.

Next door to liberty's lair was the remarkable sight seen below. The blood red sun was flashing back at us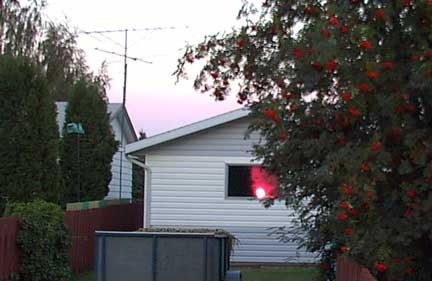 off a garage window. The
stark contrast of the window on the white building caught one's breathe for that fleeting moment as the sun retreated and half a step changed the scene completely.

"It was one day last week," she said, as we moved from the garage window's reflection. "I walked over here, down this alley, and just up ahead I heard low quiet voices, voices that seemed to come from nowhere. As I came up toward this place (near the intersection of two alleys) I saw two bicycles there in the grass under those trees. Though quiet, the voices were intense and I could hear they were in the midst of an experience off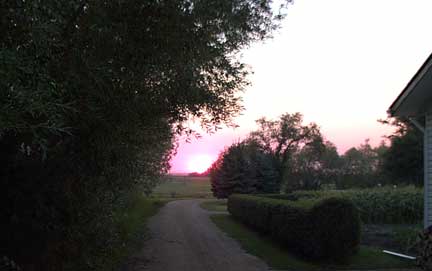 in their world of play, caught
up in their imaginary world, perched up in the limbs of these trees. Oblivious to me as I walked by their make believe world was as real and exciting to them as any reality could be. It was a magic moment to hear them and remember childhood. The moments of wonder lost in our own worlds long long ago and far far away."

And, so it is that we are often blessed with good memories as they mix with new experiences to form a new reality with which we build this moment and formulate the next, strung each to each within ourselves as we see, think, remember and feel our own fragile existence.