May we extend greetings and best wishes to those who Celebrate Ukrainian Christmas today.
School's reopened today around the province and everyone is seeking normal. That's a difficult problem because it is a new year and even the weather is abnormally warm with the temperature at -10º C today which is about ten degrees above average.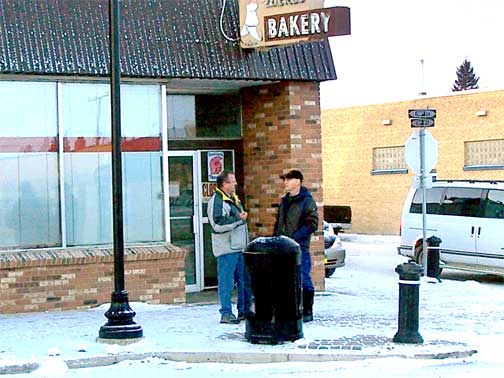 But Tisdale folks were out and about this afternoon taking the new year and the good weather in stride without the need of parkas and gloves.
The movie tonight in Tisdale is the Golden Compas, it is showing in Melfort as well and is an outstanding picture. Fabulous special effects and amazing scenes. Coming up this weekend in Tisdale is the Will Smith movie of a survival situation called I Am Legend, good reviews and definitely worth a look, it is showing in Melfort this week up until Friday.
In December two stories were posted about the dangerous footing around Tisdale's Post Office. Nothing has changed so be careful when you venture near that place. It is pretty ironic because Canada Post has a commercial running on TV on how home owners should keep their walks safe for the postman to deliver mail. In Tisdale, we have to look after the mail ourselves and scamper over the gauntlet of Canada Post's shameful sidewalks.