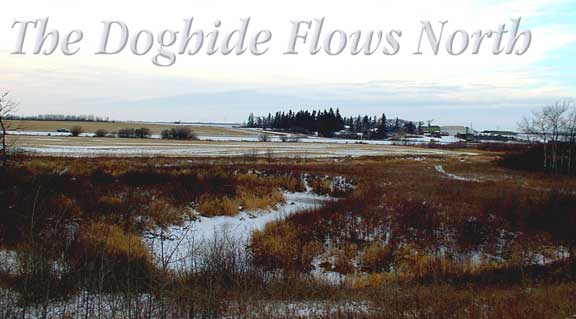 FTLComm - Tisdale - November 15, 2000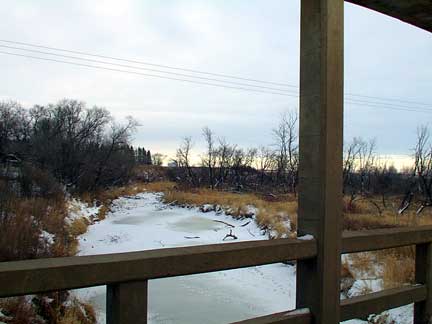 This is the fourth corner of a very small world. About half a mile North of Tisdale on what is referred to as the "old highway" this spot overlooks the little valley that holds the ambling Doghide Creek. Now in early winter just a series of still puddles trapped in the stream bed each spring this little water way hauls the water from the South and West of town and disgorges it into the Carrot River to the North of us. In the spring it can get just plain fat and in some years overflows the golf course and fills its channel for a week or more.

This picture shows a view of the stream looking East and you can make out the Harvest Valley terminal on the horizon on this view from the old bridge.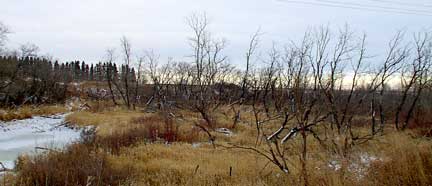 On the South side of the bridge is this area which almost every year is a flood zone and the trees here are dead. Years of more than enough water have ended their lives and they stand here crippled remenants of what they once were.

The sky today was overcast and as evening approached a front crept up from the North as we see in the 360 degree QuickTime VR panorama
below. From the length of time it took to load this panorama you realise that it is quite large but I have left it at this size because of the detail in the image. You can zoom in and out (control and shift keys) and seem much more in this image than first appears including vehicles on the roads. This picture begins as you look toward the West. The road in the picture runs North and South and as you will notice the van is parked to the South.