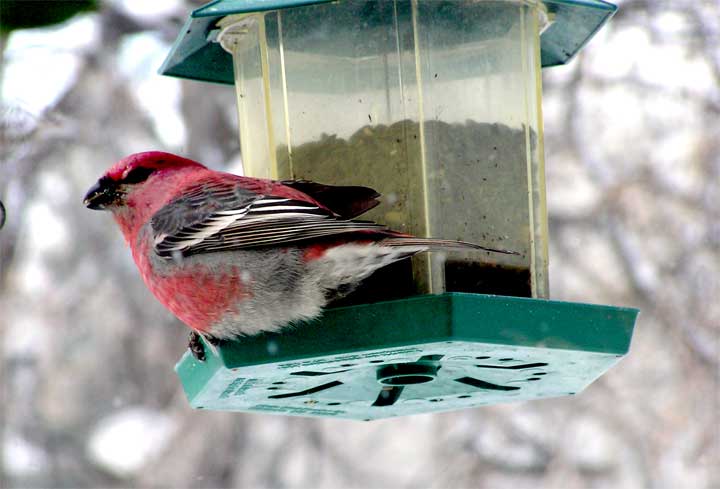 Pine and Evening Grosbeaks
Crooked River - Tuesday, March 19, 2004 by: Helen Carson



Here's a close -up shot of a Pine Grasbeak.(above)

I know you already have a bunch of them but could not resist sending this one.

We have been enjoying the birds all winter and though my husband and I have both been taking pictures, this one is mine.

These are Evening Grosbeaks.(right and below) The shot of the single female shows she is blind in one eye.

We had noticed her at the feeders several time. Then one day she showed up looking ill. Sadly we never saw her again.

Below is a pair of Evening Grosbeaks.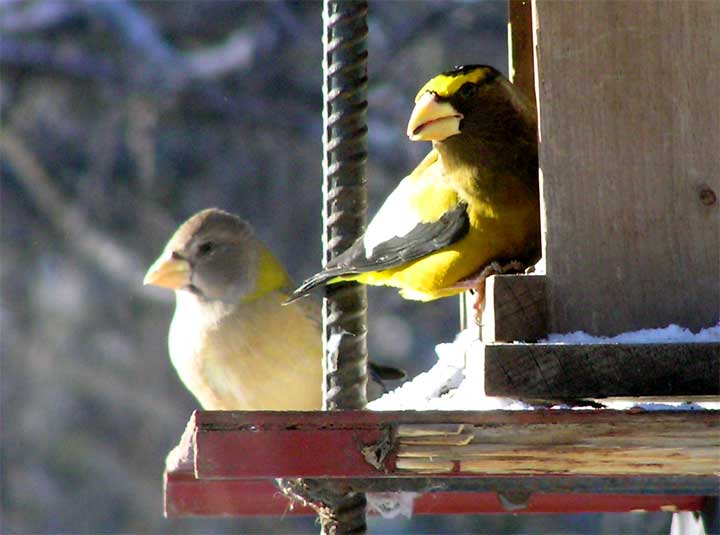 Return to Ensign - Return to Saskatchewan News
This page is a story posted on Ensign and/or Saskatchewan News, both of which are daily web sites offering a variety of material from scenic images, political commentary, information and news. These publications are the work of Faster Than Light Communications . If you would like to comment on this story or you wish to contact the editor of these sites please send us email.
Editor : Timothy W. Shire
Faster Than Light Communication
Box 1776, Tisdale, Saskatchewan, Canada, S0E 1T0
306 873 2004