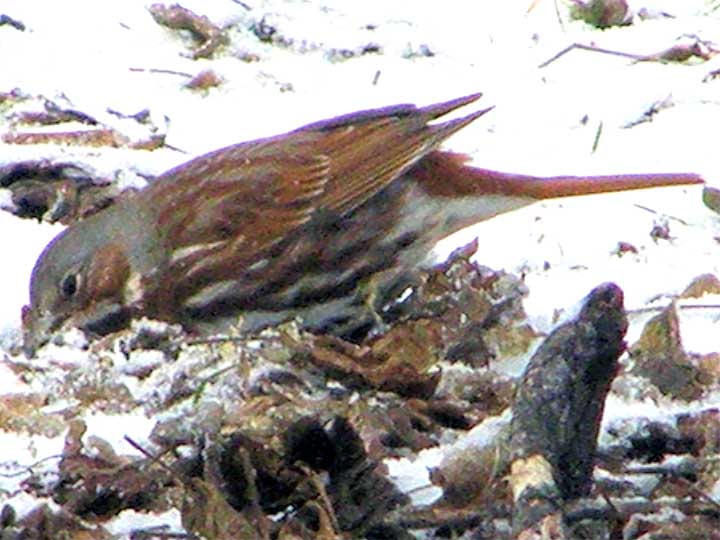 Fox sparrow
(Passerella iliaca)
Crooked River - Wednessday, June 18, 2008 by: Helen Carson
Here is a Fox Sparrow that visited our yard in late April.

According to the Peterson Field Guide Western Birds: (pp 246)

Larger than a House Sparrow; most forms have a rusty rump and tail. Breast heavily streaked with triangular spots, shaped like inverted V's; these often cluster in a large blotch on the upper breast. Fox Sparrows vary widely, and it is frustrating to separate them. This one looks like the 'Rockies' form with it's gray head.

Action towhee-like, kicking among dead leaves. This was funny to watch, as he was very active, and also burrowed in among the leaves.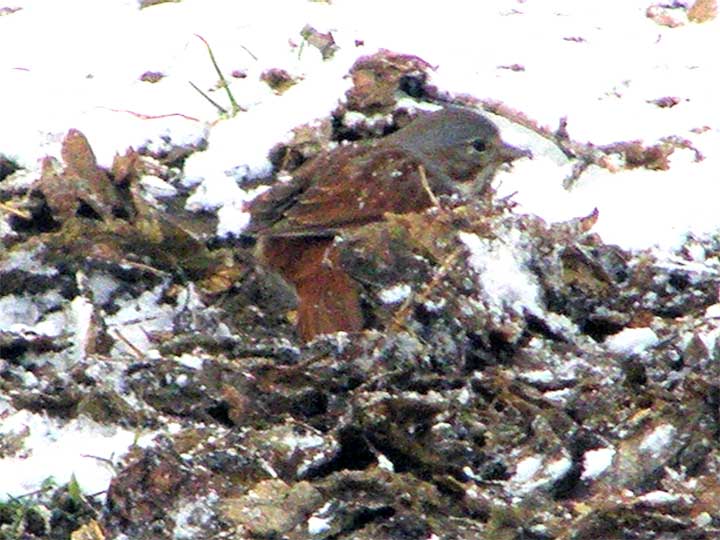 Return to Ensign or Saskatchewan News
This page is a story posted on Ensign is a daily web site offering a variety of material from scenic images, political commentary, information and news. This publication is the work of Faster Than Light Communications . If you would like to comment on this story or you wish to contact the editor of these sites please send us email.
Editor : Timothy W. Shire
Faster Than Light Communication
Box 1776, Tisdale, Saskatchewan, Canada, S0E 1T0
306 873 2004