Typically we think of deer both the white tail and mule deer versions as making their homes in scrubby bush land and rarely venturing out in to the open country side. However, the success of these wonderous cloven hoved beasts is that they are remarkably adaptable. If they discover sources of food in city or town they will turn that into their homeland and if they can find food to support themselves in the open country, fine, that will do as well.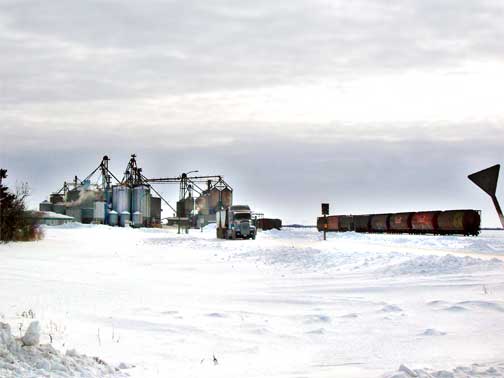 This afternoon around 3:00 I stopped by this power line to take a perspective picture of the line going off into infinity. I had some other images from a day or two ago and wanted some more to make a story about the tricks perspective plays on us on the open prairie. As I backed the van up to get the shot framed I noticed that there were figures moving three pole lengths away. The telephoto feature on the camera I was using is not that powerful so I was limited to the 3X that it delivers and as you can see a group of deer are heading due east.
This group was followed by a second smaller group all in single file as they two made their way across the open field.
They were headed for the Walker Seeds (above) pulse terminal where they obviously had found food supply from spilled seed in the car loading area.
This year's heavy snow cover makes it hard for these foragers to find the calories they need to support themselves in the low temperatures of a Saskatchewan winter. When these pictures were taken the temperature was -25ºC. It takes a lot of food to keep a large animal alive in low temperatures and even more for a doe carrying a foal.