Ensign Goes To The Dogs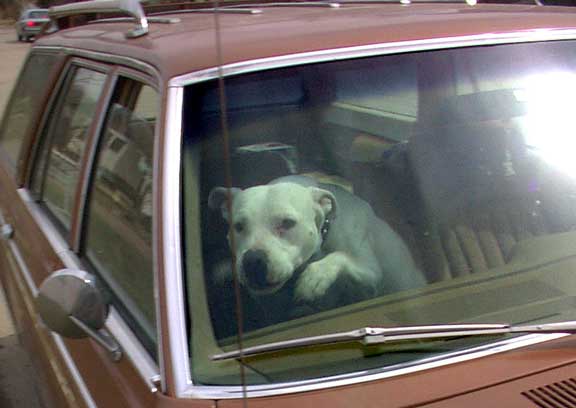 FTLComm - Tisdale - May 5, 2001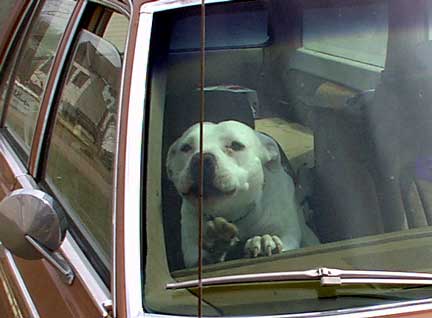 Readers of Ensign will have seen pictures of this fellow at a distance as he and his master play games in a nearby field several times a day. He was quite peaceful when the car was approached but when the camera came up this fellow was definitely annoyed and comforting that the glass was between us. In a discussion with the owner it was discovered that this is a "Shropshire Terrier" the equivalent of the American Pit Bull but as a fully mature animal this fellow is a full fifty pounds lighter than the similar American breed.

This animal was an unwanted and somewhat abused creature when his owner found him and since then they have developed a solid working relationship. This breed of animal was developed for its courage and all out aggression but his owner has discovered that if he gets lots of exercise and care he is a wonderful companion, but without the exercise he can be a difficult individual. Lacking the long distance endurance of a hound this dog as truly amazing pickup, his ability to sprint for thirty feet is unmatched by any other dog breed and since his ancestry came from the world of aggressive hunting he is by design fast and furious. (Though there is mention of the Shropshire Terrier no web pages dedicated to this animal were found.)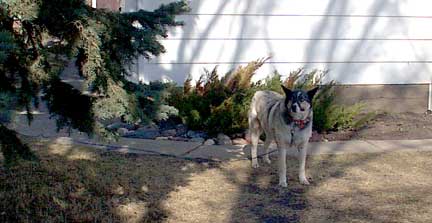 A new neighbour has moved in just down the street from us and it is a well mannered and friendly German Shepherd with gray eyes. Though we can admire the tenacity and valour of the terriers their intellectual ability is not their strong point. The grace and good sense we often attribute to dogs in general often seems best exemplified by the good common sense and solid cognitive ability of the German Shepherd tests have shown only the Border Collies and Poodles to have a mental edge on these canines.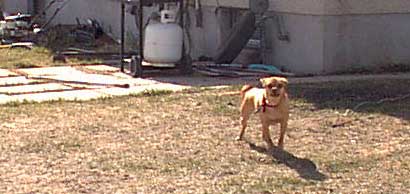 Neighbourhoods away I encountered this feisty part Terrier and perhaps part Chihuahua. These Heinz 47 breeds are to be cherished as they are often so individually capable that it matters not what their lineage is for they are all dog and this one is in charge of raising intruder alarms, supervising children and maintaining territorial integrity, what more could anyone ask for. With good eye sight, a loud bark and a determined assertive sense of self this is the perfect guard for any home.

We close today's picture tribute to dogs with two pictures of a non-dog. This petite black American short hair reign's supreme over its territory, a true opportunistic predator who clears the area of vermin, birds and can earn the respect of all other four legged creatures. Dogs live and communicate with humans on a quid pro quo basis, they give and get from the relationship. Non-dogs just maintain their opportunistic predatory life style, take what they can get, train all humans to server their needs and never, not ever let emotions, or feelings, interfere with selfishness.