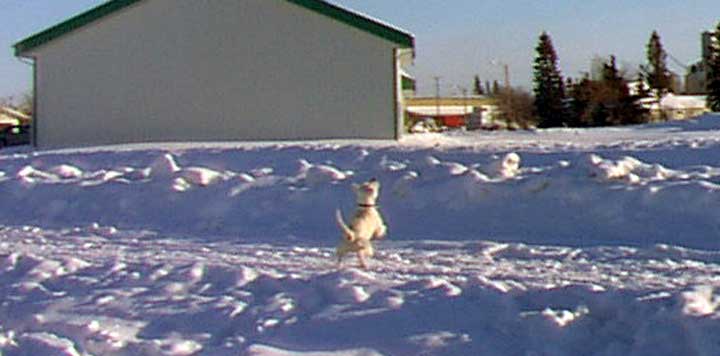 Flying Dog
FTLComm - Tisdale - Wednesday, February 26, 2003

No wings, no feathers this guy gets airborne strictly with launch capabilities.

Three to four times a day he and his master stroll out into this open space and the dog gets into action. He is a close breed to the infamous pit bull and though not a brilliant scholar he is loaded with energy and these breaks through the day make him a happy dog and as you can see from these pictures a truly fit one.

The game is a simple one, toss a stick (summer time) or a lump of snow into the air and this canine missile launches into the air to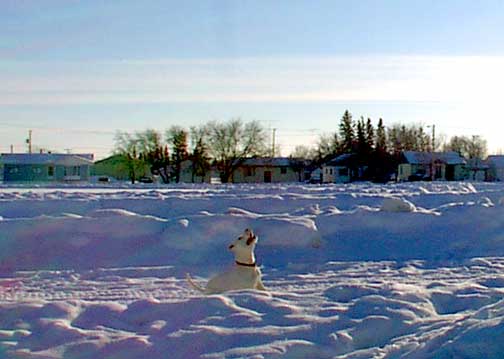 bring it down. Neither he nor his master have any interest in the recovery process the whole emphasis is picking of the airborne object before it falls to the ground. To give the dog a full course work out each toss is in the opposite direction of the toss before it which sends the silent short haired animal hurling back and forth across the field. No barking, no impatient preliminaries just the pure joy of getting under the projectile and taking off to make the catch.

The day's first routine is before my breakfast and the last one of the day is usually between ten and eleven each evening. All kinds of weather and all round the year this daily ritual is the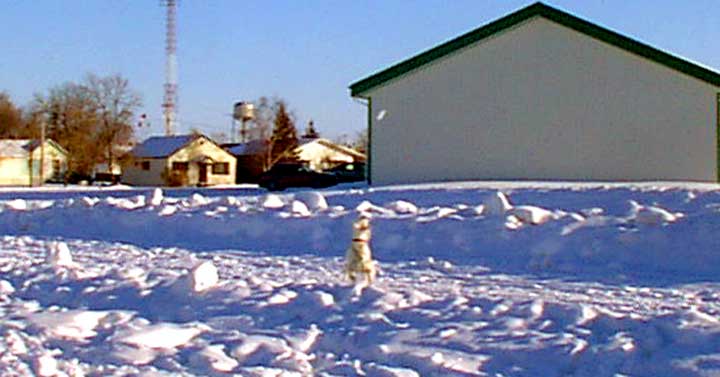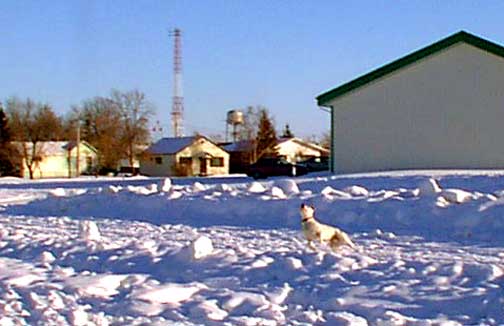 motivation that keeps this companion in good spirits and healthy.

It simply goes to show you what practice can accomplish because he almost never misses even when the projectile seems far beyond what he should be able to reach. His ground speed is exceptional for such a good sized and really sturdy animal.

I was especially impressed with his airmanship. The whole business of such a short flight is that it must be control long before take off otherwise the landing will not be pretty. So he is planning his jump while he is tracking the ball of snow and


with nothing but muscle and agility he is depending on getting up, making the contact and getting down safely all from the pre-launch mode.

When humans attempt a trick like this (Frisbee tossing) they are inordinately lucky to make contact or score a catch more than three in five attempts but this four legged bundle of energy missed one in the ten attempts as I was doing these pictures and the miss was due to a trajectory problem as it was close to one of the snow ridges in the field which are landing hazards. I would have expected him to at least slip a few times but this dog can fly.
---
Return to Ensign - Return to Saskatchewan News
This page is a story posted on Ensign and/or Saskatchewan News, both of which are daily web sites offering a variety of material from scenic images, political commentary, information and news. These publications are the work of Faster Than Light Communications . If you would like to comment on this story or you wish to contact the editor of these sites please send us email.
Editor : Timothy W. Shire
Faster Than Light Communication
Box 1776, Tisdale, Saskatchewan, Canada, S0E 1T0
306 873 2004