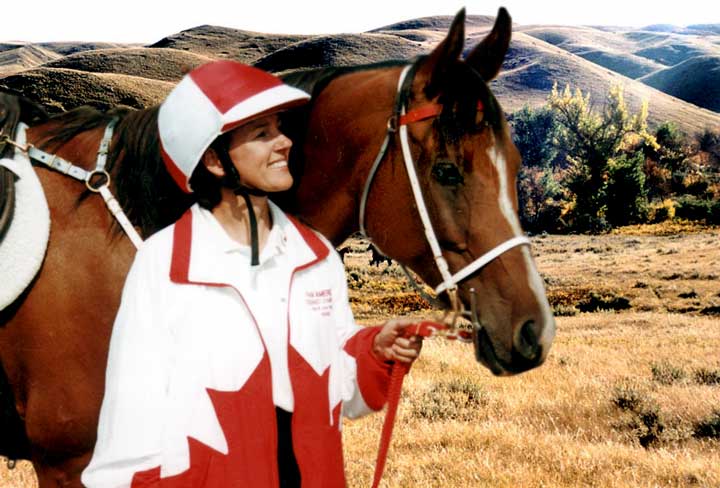 Ebon Fall Ride,
Drive and Dine Race and Horse Comfort Clinic
Saskatoon - Friday, September 5, 2003 by: Sharon Elder, images by Janice Sutherland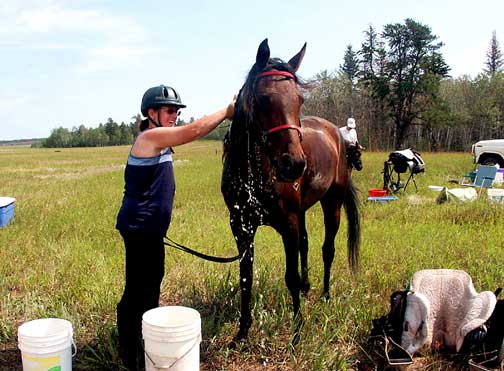 It is time again for the Ebon Fall Ride, Drive and Dine distance rides. The three distance rides options are sanctioned by the Saskatchewan Long Riders and will depart from Ebon Stables (just east of Saskatoon) on September 27. The action starts at 9:00 am. Profits will be donated to the University of Saskatchewan Equine Research Fund.

The three rides being offered are a 25 mile competitive trail ride (done at the pace sent by the veterinarians), a 25 mile limited distance (done at the rider's own pace) and a 50 mile endurance race (also done at the rider's own pace). After the success of the Horse Lake Howl elevator ride, this option will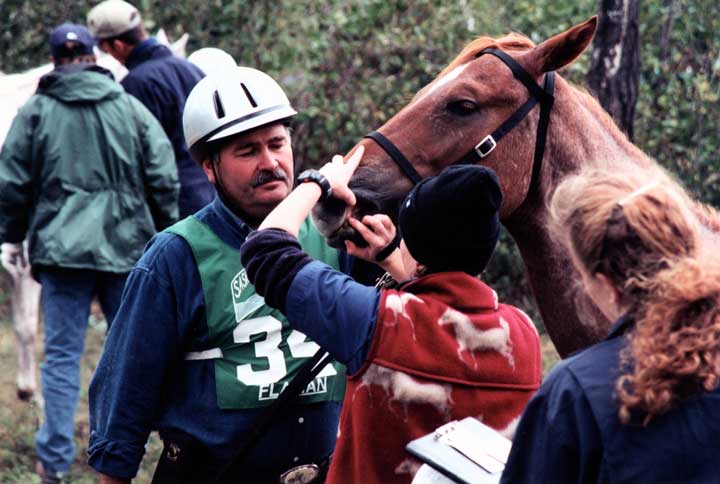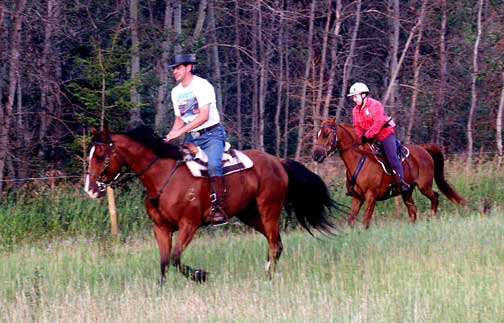 again be available. Riders will have the opportunity to move up from the 25 mile limited distance to the 50 mile endurance. Of course, this decision is based on the veterinarian judging the horse to be fit to continue.

Riders and pit crews are welcome to join in a roasted pig dinner on Saturday night. Without the pit crews and the very generous volunteers who help out with trail marking, scribing for the vets, taking pulses, filling water buckets, etc riders would be hard pressed to complete in the allowed time frame.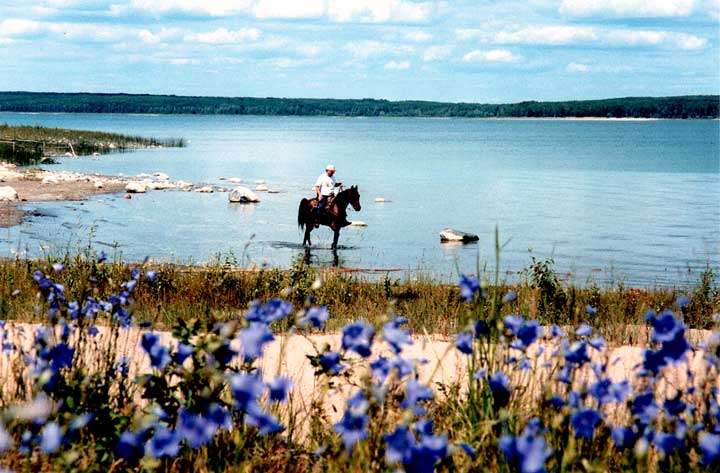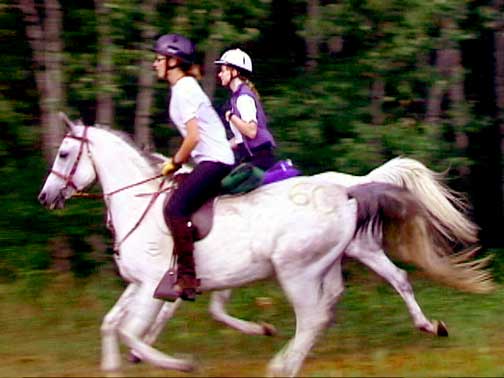 Furthermore, on September 28, the Saskatchewan Long Riders will host the Horse Comfort Clinic, also at Ebon Stables. This is an excellent opportunity for riders to have their horse and tack evaluated by Greg Roskies with the Port Lewis Saddle Fitting System. Only 12 riders will be scheduled on this day, auditors are more than welcome.

This is the one clinic that the horse will enjoy as much as the rider. What was too uncomfortable to do before, may not be a training issue, it could be completely about the comfort level of the horse. Each rider will get an evaluation of every piece of tack on every horse in the clinic. This clinic is focused on getting the horse so comfortable that he is able to work to his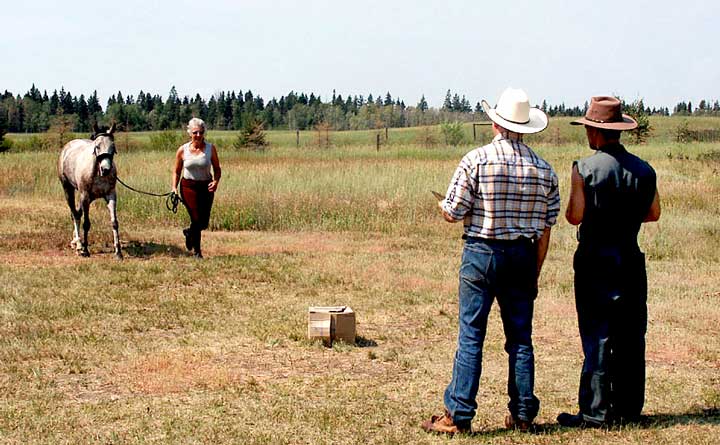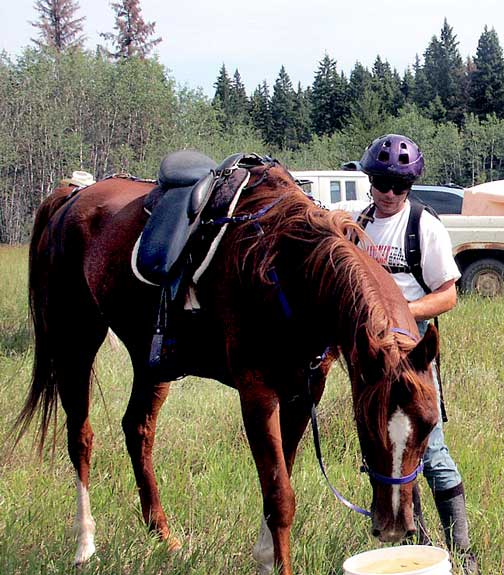 FULL potential. All the lessons or training clinics will not help a horse that is moving with pain or discomfort. Each rider will experience riding with a custom fit saddle pad before the end of the clinic.

The Port Lewis Saddle Fit System is used worldwide in every riding discipline. Currently the Kentucky, Kansas and New York State University Equine Programs are using it. Trainers, coaches and riders can all benefit from the knowledge of how the saddle/rider/horse combination fits.

Participants will have the opportunity to have Greg test the fit of their saddle with the Impression Pad, but more than that, they will learn about all types of saddle pads, girths, bits, bridle-less riding, the horses' learning curve and more.

This weekend is the perfect opportunity to put a few miles on your horse on Saturday then test the Impression Pad on Sunday to find out just how well that saddle does fit.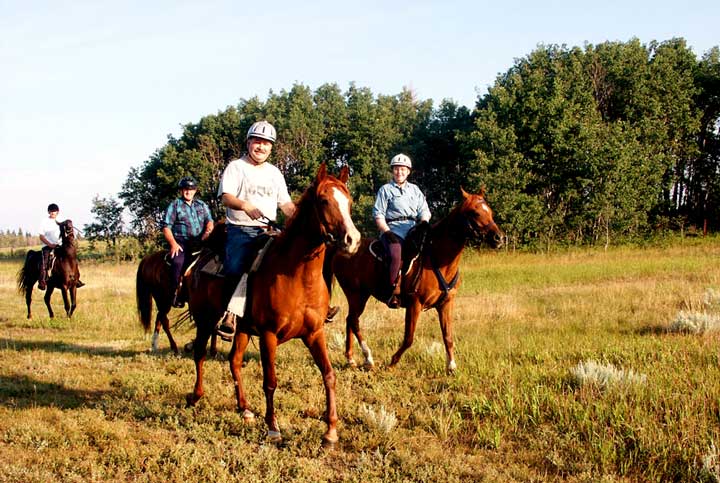 email Sharon or telephone 306 978 1636
---
Return to Ensign - Return to Saskatchewan News
This page is a story posted on Ensign and/or Saskatchewan News, both of which are daily web sites offering a variety of material from scenic images, political commentary, information and news. These publications are the work of Faster Than Light Communications . If you would like to comment on this story or you wish to contact the editor of these sites please send us email.
Editor : Timothy W. Shire
Faster Than Light Communication
Box 1776, Tisdale, Saskatchewan, Canada, S0E 1T0
306 873 2004