The Who Quest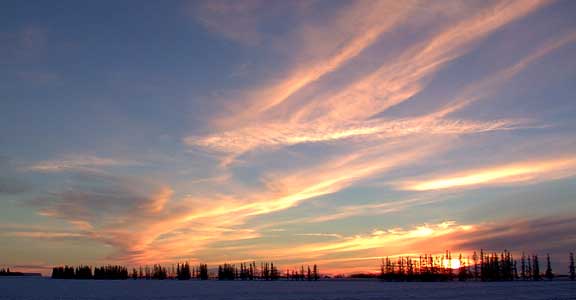 FTLComm - Tisdale - January 10, 2001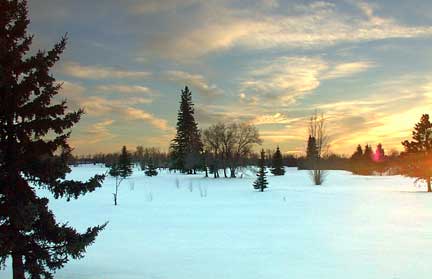 By four each day I have pretty well had enough of computer screens for the day and like to get out, pick up the mail, have a coffee and take a picture or two. Tuesday I was not out and about until nearly five and began a little journey around town. This took me past the golf course (right) which looks like some cross country skiers have been making use of the fairways.

When I took this picture it was clear that the sky was looking very positive and so I headed to the North side of town and than turned West toward the setting sun. The picture below was an obvious natural with the sun blasting
through a row of spruce planted as a shelter belt along a field directly North of the alfalfa dehydration plant. A minute later I took the image that is at the top of the page.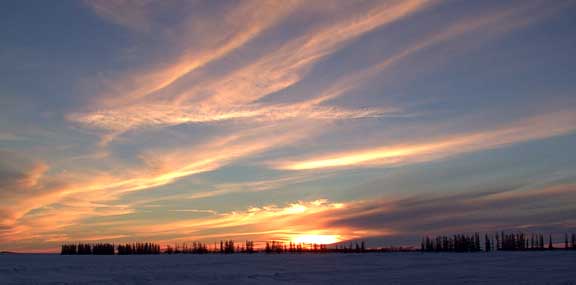 Another mile West with the horizon clear I took this picture of the cirrus clouds of the setting sun, with their clear indication of some wind movement aloft.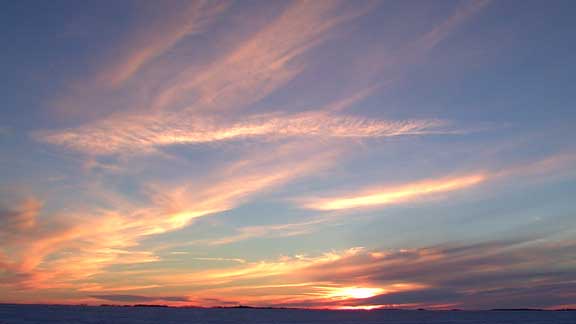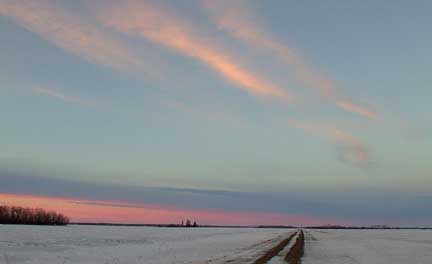 While stopped to get the picture above I noticed the occlusion to the North with its darker blue ridge and so I thought I had pretty much seen was there was to see.

But only a hundred yards South an invisible bird leapt from its post and began flying along beside the van ten to twelve feet above the snowy field. This creature had a wing span of about two feet and yet was almost impossible to see in the lowered light of the late day and the white background of snow in the field. But there was no doubt about what it was, this was a Snowy Owl (Nyctea scandiaca).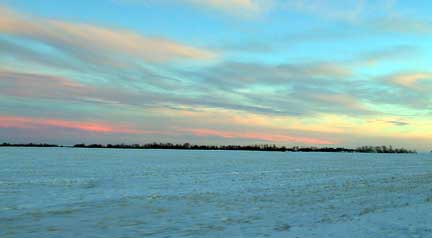 These arctic brilliant white
birds are found all around the Arctic, Europe, Asia and America. They have a wing span of from twenty inches to 27 inches and are usually silent except in their breeding season when they will give a loud "know-ow".

The bird swept over the field with such ease, I had to speed up the van a bit just to keep pace with it and pointed the camera in its general direction to get the picture on the right which of course shows absolutely no indication of anything but a snowy field and a coloured sky.
Then the owl climbed sharply and the slow lens of the wide angled digital camera registered a blur in the picture below. It executed a neat right row and headed right toward the van fixing its bold binocular eyes on the driver frantically grasping a recycling digital camera. It turned and once again vanished into the back ground.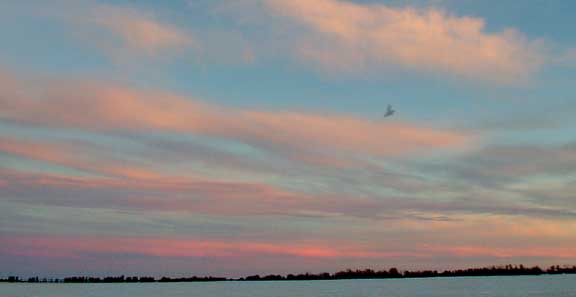 A digital camera is just not up to the rigours of capturing birds and I shall saddle up the video camera with its 12x zoom and try to get some better shots of this winter visitor as it is a day time hunter and will very likely hang around the area I saw him yesterday.
Timothy W. Shire