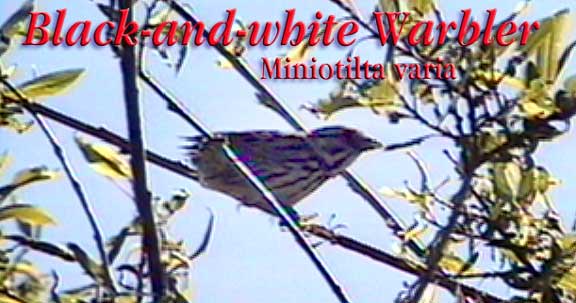 FTLComm - Tisdale - June 12, 2000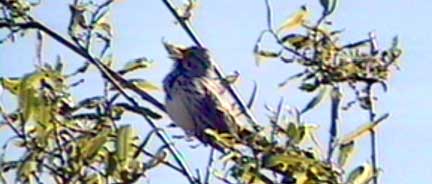 If you have any interest in identifying the birds with whom you share this planet you really need A Field Guide to Western Birds by Roger Tory Peterson published by Houghton Mifflin. The reason I point this out is that you need a good reference book and a lot of experience to pick out and identify the various species that abound.

This morning when I heard

this guy singing, and I was
driving by the golf course with the window down and this song brought me to a complete stop. In the picture upper right he is in full voice and you will notice just below is throat is puffed out as he blasts away.

I thought that he looked a lot like a lark but alas consulting with Roger Tory Peterson I have identified this bird as a Black-and-white Warbler.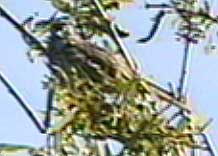 This identification is based solely on his markings because Peterson describes the Black-and-white Warbler's song as "a thing weesee weesee weesee weesee weesee weesee; suggests one of Redstart's songs but higher-pitched and longer (wesee repeated at least 7 times). A 2nd, more rambling song drops in pitch in middle of series." Now you can listen to this song and it may well be that this singer is doing the number two song. I recorded him repeat it time after time and this seems to be his favourite.

The Black-and-white Warbler spends our winter in Mexico, the West Indies and South America. The are wide spread from the MacKenzie to Saskatchewan, the Black Hills and Montana. They like to live in woodlands but put their hair-lined cup nest on the ground or stump where they will lay 4-5 spotted eggs. They mostly feed on insects.