FTLComm - Tisdale - January 18, 2000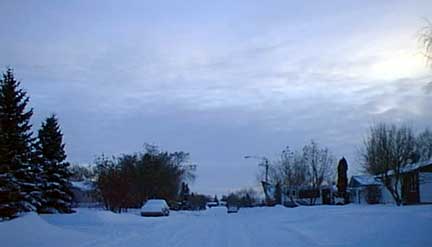 It was looking pretty gloomy as I drove around Tisdale late Monday afternoon with fresh snow piled about and a pewter sky. It was a complete surprise to me to come across the gang I had photographed on Sunday only now they were filling up the trees in a neighbourhood on the North side of town. My little wide angle digital camera was not going to get me any closer to this cheerful bunch but I thought I would put these pictures on another page for you so that you too could get an idea of this many birds arriving for a short stay in the midst of winter. A bank teller told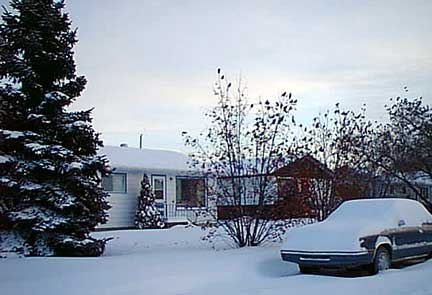 me that they show up almost every year in her yard on their quick berry picking expeditions. She said they never stay long, sometimes only a few minutes and if their are lots of berries it can be a few days.

This is a large flock that seemed content to let me drift by them in the van and have their pictures taken. Though none of my pictures show their markings well, I was amazed to see many displaying a clean crisp yellow band across the base of their tails.

But the gloomy sky and everyone who saw them had their spirits lifted by this bunch of little fliers.