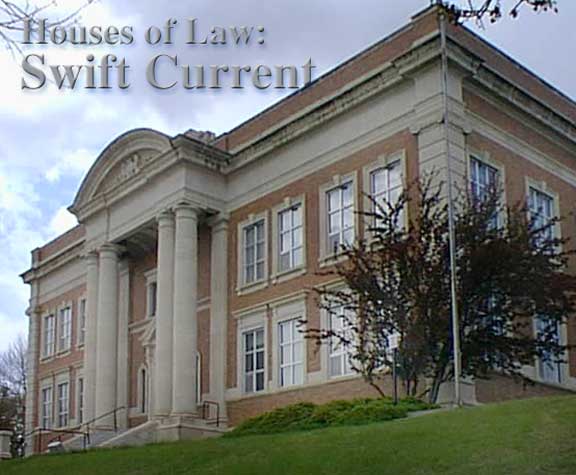 FTLComm - Swift Current - May 17, 2000
The plague commemorating the designation of the Swift Current Court house as a heritage site clearly explains the importance of this building in the formative years of this province. It is important to realise the time in which the building was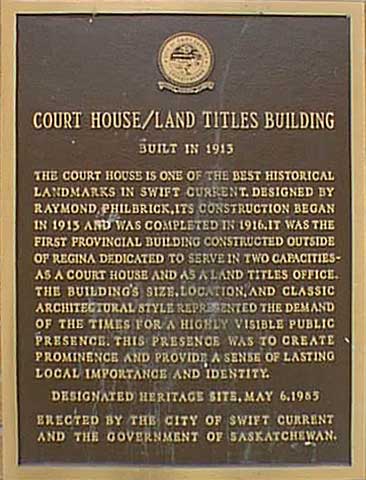 built. Construction began in 1915, the second year of the first world war. A war that called upon men from across the land to volunteer and enter into the service of their country and ultimately give up their lives as this was one of the most totally all encompassing conflicts that pitted humans against artillery and machine gun fire.

Yet as this truly horrible mechanism of death was in its fullest this great building was being built in what was then a little prairie desert town. Perhaps in some ways this building might have symbolised the reason to sacrifice one's life and suffer the depravation that comes with war because of an assurance that justice and freedom would prevail in this land for a very long time.

The building stands on a gentle slope overlooking the town, to say it is imposing is to underplay the outstanding design of the structure because the Philbrick design has a harmony and repetition to it that suggests organisation and integration rather then domination. The building materials are excellent brick, limestone columns and granite steps. The feeling of absolute permanence is seen throughout the building's exterior.

These pictures taken Saturday, May 13 show the building in the mid afternoon light as it faces South amidst trees only now coming into leaf. How remarkable that a building like this can give the same impression it was intended to give eighty-five years after it was constructed. So much has happened to this land and its people since then and yet the stolid and continuing presence of this building maintains the continuity of order and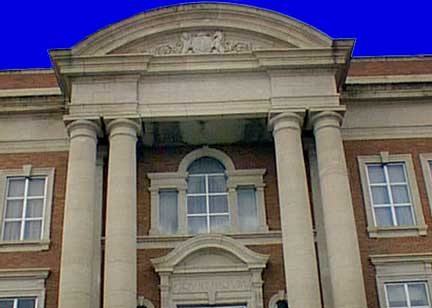 the reliability of the society
and culture that built it and continue to support what it was meant to symbolise.

This building and the other court houses of the era are significantly different from other public structures of their time. The provincial legislature building and the castle like structures of the University of Saskatchewan are gray. Dull and monotone while the court houses are all brick buildings with contrasting limestone to set off the importance of the decoration. Business buildings of the time were much more likely to be like this then the gray stone work that seems far more European. This building would look completely in context in Illinois or Virginia.
In this close up view of the entrance we can see the turned limestone supports for the railing and the railing itself as they contrast with the columns on each side of the main entrance.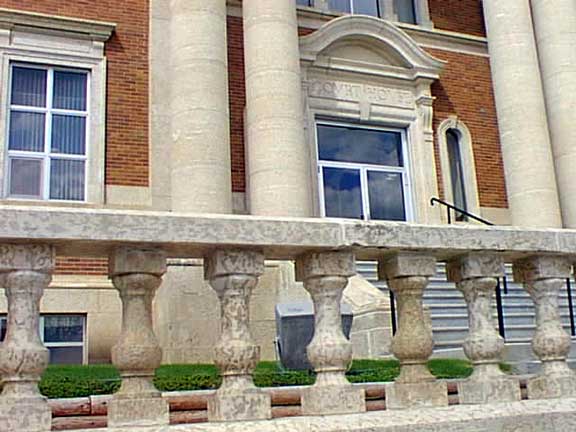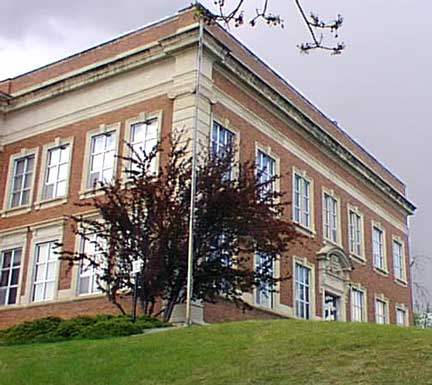 This picture was taken not to show off the elaboration on the corner of the building but to identify the East entrance to the building which has the word Sheriff above it with an equally ornate motif as seen at the front of the building.

You will notice that this picture best shows the difference between this architects approach to exterior walls and topping off a building to that of the approach in the Moose Jaw Court house. No buttresses here but instead stone work on the front and a ledge all around with a topping brick wall and cover.

As it was a Saturday we can not report to you any impression of the interior of the building.

Below is a good view of the columns and the superb granite steps. Below right is the detail of the windows and the ornamental corner with its gothic scrolls.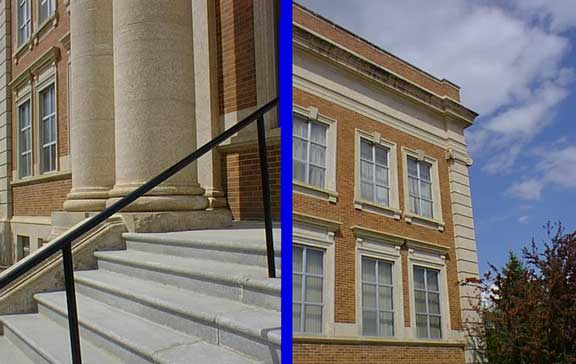 This picture below is a composite image produced from three wide angle pictures shot vertically to give a detailed overview of the front of the building as you approach it toward the main entrance. The composite nature of the image suggests some misalignment but that is only due to the distortions of the image, the building is straight and true.