Early Birds get the Ride

FTLComm - Tisdale - July 10, 1998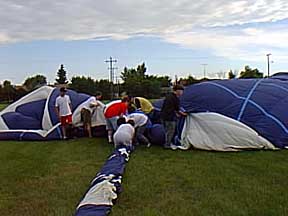 The kick off to the 1998 Tisdale Honey festival was the SaskTel Calling Card hot air balloon ride at the TUCs football field. Shortly after 7:00AM the SaskTel crew and Nigel, the pilot unpacked, the balloon and began inflating it in the calm morning air. Just before 8:00 they were airborne and everyone who came out to see the event had a chance for a ride up and down in the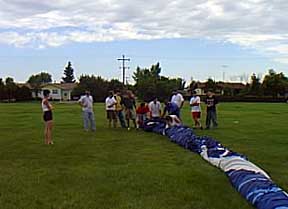 balloon. At 8:45 with everyone present having made their ride and the sky looking a bit foreboding it was time to call it quits for the morning and pack up. The possibility of a shower always puts a serious damper on hot air balloon riding as the balloon doubles its weight when wet and makes the whole process of packing and deploying a heavy difficult task.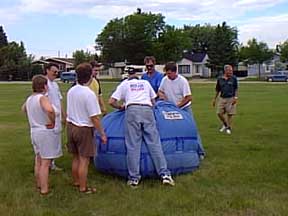 This morning volunteers pitched in and by 9:30 the air was out, the whole thing rolled up and into its trailer to await this evening's flights scheduled to begin at seven.

This morning's flight involved fifty-eight minutes of flying time and the supply of propane was almost exhausted at that time.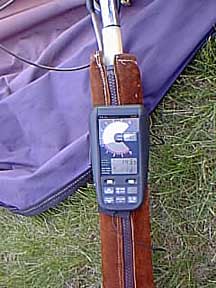 Four tanks in the gondola are used to fuel the massive burners to bring the air to more then 100F which provides positive lift for the vehicle.

On the left is an image of the electronic altimeter and rate of climb meter used in the gondola to assist the pilot with his heat management. As hot air expands the envelop with hot air inside rises through the dense cooler air in the atmosphere. Descent is then the result of the air in the envelop cooling or the pilot releasing air from the top vents to produce a controlled descent.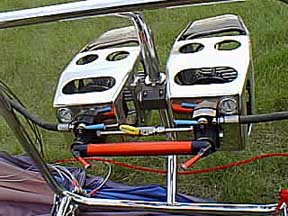 But the main system is the shiny propane heaters seen on the right that provide the heat to lift the vehicle.

This balloon is leased by SaskTel from an English company that arranges the custom make design of the balloon and provides the crew and support for the project. Because of unusual regulations the balloon is licensed in England and is not a certified Canadian aircraft. The pilot is a commercial pilot with a hot air balloon endorsement.

To have a look at last year's flight click here.