---A Barn and Barley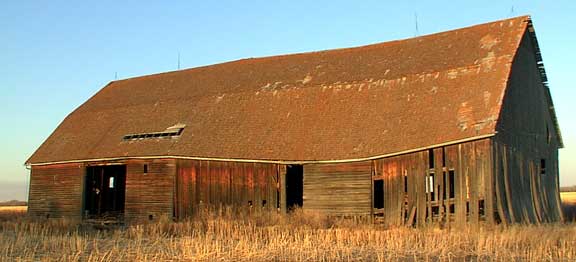 FTLComm - Tisdale - October 12, 2000

It is believed that this barn began its life the year before Saskatchewan became a province and has stood on the side of this creek ever since. The Mitchell family owned this proper for many years and despite the sage or two this structure is made of good stuff and is doing its best to hang on. During the past few years the concrete on the creek side of the building has been steadily breaking down and ultimately that will be
the undoing to this fine and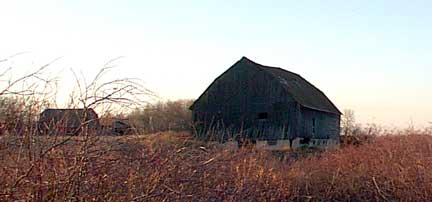 stolid prairie stucture.

A horse barn for a farming era that has been gone for perhaps sixty years or more. This building is constructed of massive beams and weathered vertical siding similar to what you would see in construction design in Southern Ontario and not at all common in this part of Saskatchewan.

The present owner would like to dismantle the building and salvage the materials because the siding and other
componets of the building

could provide the perfect
materials for a rustic decor in a restaurant or antique store. If you happen to be looking for material like that contact Ensign and we will help to get in touch with the owner.

Clearly the location of this barn and the farmstead of which it was once a part is a choice place to live and work but also to grow grain.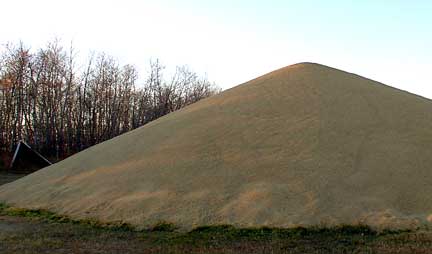 I had ambled out across this
country side and spotted the barn hoping it would make some good pictures but this pile of grain proved to be just as interesting. This pile consists of about 25,000 bushel of feed barley. The farmer grew this crop on a contract for $2.00 a bushel for the contract buyer to look after picking up the crop.

This was a good year for barley and the productive land surrounding this aging barn produced well over the 75 bushel to the acre this year.