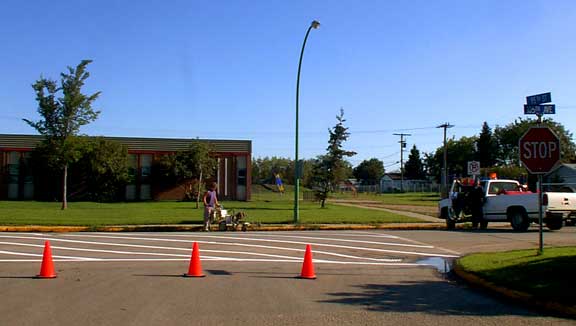 A Friday morning in August
FTLComm - Tisdale - Friday, August 23, 2002

We have all heard the stories that cars made on a Friday are often more prone to problems and few projects are begun on a Friday. Friday is the day for finishing things up and seeing what will need to be done next week.

Speaking of next week,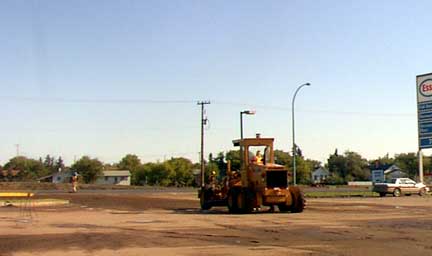 school begins and this morning both school's in Tisdale had a large number of their staff members at work. (Top) The town was cleaning up the street markings in front of the Elementary school as they are pitching to get things ready for the new school year.

Out on the highway in front of the Tisdale Mall the paving crew were not quite finished and in this picture we see they are going to make an attempt at fixing the worst pothole collection in this part of Saskatchewan. The main entrance to the Tisdale Mall is always an obstacle test course for all vehicle suspensions that attempt to traverse this mess of spongy pavement. The work this morning involved putting a bit of a crown on the roadway to allow some drainage but the underlying material is poor and most feel that this fine effort will be pretty much like it was in less than a year.

There were several yard sales on this morning and I was able to get a couple of interesting books for fifty cents. Excellent way to start a morning or end a week.

The crew was hard at work on the house recently moved in from Mistatim and Colin Chupa hustled some gravel around the Golden Age Centre parking lot.

One of the most unsettling prospects was a jack hammer and front end loader on 103rd on the block West of the SAAN store. This poor street some years ago was dug up every day until the whole street was repaired fixing its leaky water and sewer line. After laying bumpy for two years it was paved last summer and when I saw equipment on it I was ready to throw myself in front of the equipment. But alas it was a false alarm. One of the houses is getting a new driveway and the town crew were on hand to remove the curb. Heavy sigh!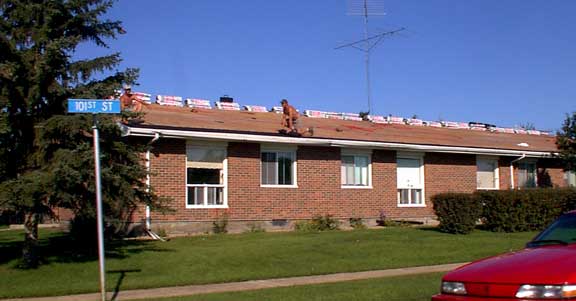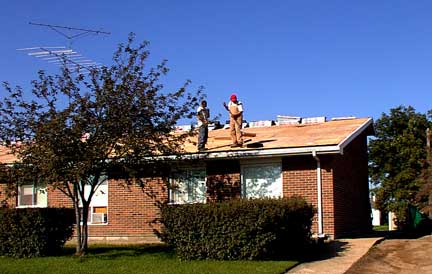 Farber Construction have stripped one portion of this care home roof in readiness to begin the reshingling process.

All in all this Friday, no matter what people are choosing to do they have the ultimate weather in which to do it. An absolutely fabulous late summer day with the temperature rising to 26ºC and a cloudless sky.