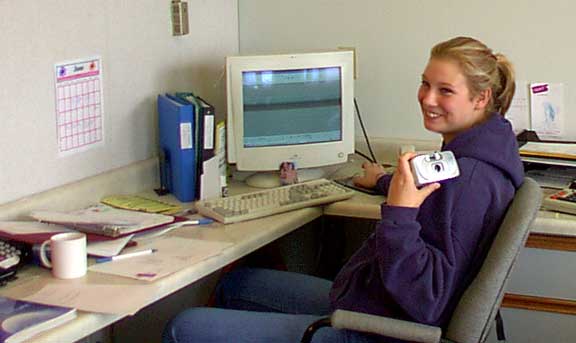 This Camera Is For Real
FTLComm - Tisdale - Tuesday, June 12, 2001, Images by Wesley Parkvold, Story by: Todd Wakefield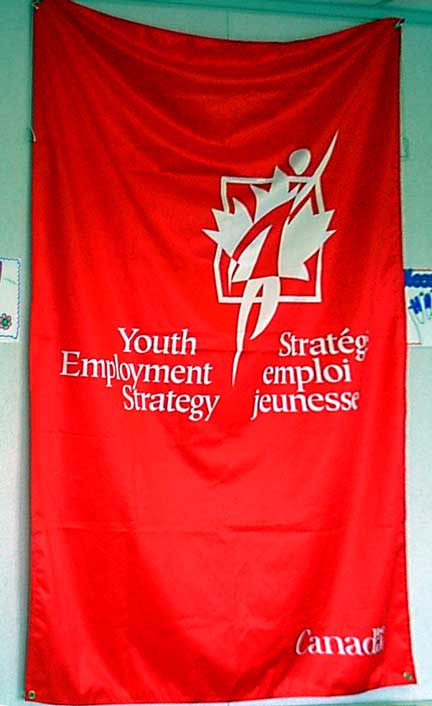 "This camera is for real"
she said as she fervidly exhibited her satisfaction with the summer employment program. That's right, Tisdale's own Erin Tarala is in a position of power!

Yeah, I know I found it frightening too, until I confronted my fears and faced it head on. I realized there was nothing to fear.

We met with Erin and she was very excited to see us, me a little more so than Wes. But she was fun to talk to and said she would even help me to find a job. She is very informed with the goings on in Tisdale, she explained to me a great many things in our short time. Among the revelations were, allot about cameras, that is if something is illegal to display, display it, because it looks nice. In her exact words "I leave them there because they look nice", she also explained to me that there is a whole week dedicated to Summer Employment, a whole week! I only have one day dedicated to me! MY BIRTHDAY! And, summer employment gets a whole week, June 16-22, and that the government won't help you find a summer job if you are under twelve and over twenty-nine, which to me sounds like discrimination because of age but, whatever.

Erin took the initiative
and talked to over the seventy businesses who are participating in the Summer Employment Centre. She talked about the program and when it would be active and if they would be interested in donating prizes, like a camera like in the first picture (donated by Zellers) or Fish hooks for the likes of which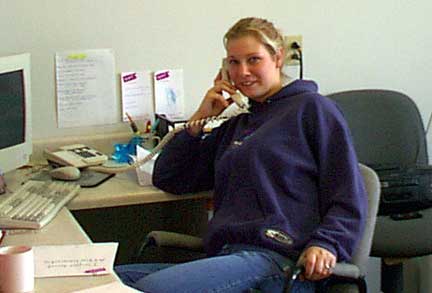 we were unable to get a picture.

I caught Erin off guard when I asked her how I could get her job, she replied "I'm not quite sure", I was a little surprised to find out that a person who helps other people find a job doesn't really know how she got hers.

Erin was happy to see Wes and myself arrive, but was even happier when we left, I didn't want to, but she bribed me with an undisclosed amount of free gifts, I asked if it was a bribe, she acknowledged that it was, and that she was guilt free,

What did you do, you ask, as a budding journalist? Well I did what any good Samaritan would do. That's right, I took the gifts and left, because Erin said if she had to look at me for another second she was going to jump out the window, and she's a really nice lady, so I didn't want her to do that. So I ran away before she could throw anything heavy.
Looking For A Job?

We Can Help You In Your
Summer Job Search!!

The Summer Employment Centre offers you:
help with your resume writing, interview skills, and job search techniques
Resource materials on a variety of topics
Display of full and part-time job vacancies in the area
Registration forms for the Odd Job Squad and Babysitting Squad
The odd Job Squad is a great way to make extra $$$
working the jobs you want and when you want! The more
you want to work, the more jobs you'll be offered. Just come
register at the Summer Employment Centre!!
Come See Us!!
901 - 100th St. NEWSASK
(The West door of the Civic Centre)
873 5757
Monday to Friday 8:30am to 5:00pm
-
-
Summer Employment Week
June 18th to June 22nd
Look what's going on for Tisdale's Summer Employment Week!
Come out, get involved, and have some fun!!
Saturday, June 16th
~ Kick-off breakfast at the Beeland Co-op cafeteria. come out and support he Summer employment Centre program from 9:00am to 11:00am

Monday, June 18th
~ Come check out the summer employment cnetre's information table at TMSS from 11:30-1:30! sign up for Odd Job Squad and Babysitting Squad, learn about job openings in the community and sign up to help with the Summer Employment Week events (volunteers receive prizes and split all proceeds!)

Tuesday, June 19th
~ Grocery bag stuffing at Beeland C0-op!! learn more about the Summer Employment Centre's services!

Wednesday, June 20th
~ Bottle/paper drive from 5:00pm to 7:30pm. Come out volunteer and have some funn! (proceeds will be divided among volunteers)

Thursday, June 21st
~ Free mini-golf tournament at the Tisdale Tourist Booth from 3:30pm to 4:30pm. Top scores will receive prizes. Must be 12 years old or older.

Friday, June 22nd
~ Community clean up at the Kinsmen Park from 3:30pm to 5:30pm. come out, volunteer and have some fun!! Prizes for those who volunteer their time!
Let's show employers what we can do!!
For more information or to sign up to help out phone Erin at the Summer Employment Centre at 873 5757
-
Need A Hand This Summer
WE CAN HELP YOU IN YOUR SEARCH FOR SUMMER HELP!

The Summer Employment Centre has workers to fill all your employment needs. Just sit back, relax, and let us help you with:

yardwork
painting
babysitting
spring cleaning

moving
construction labour
vacation relief
house-sitting

Hire someone for a day, week, or month, or longer. We can also display full and part-time job vacancies.

Enjoy those lazy, crazy days of summer!!
Let us do the work for you!


All you have to do is call the Summer Employment Centre at 873 5757 (Monday to Friday 8:30 to 5:00)
or drop by at 901 - 100th St.
(the West doors at the back of the Civic Centre)
-