Lobster Weekend
Kamloops - Thursday, May 16, 2002 - By: Mike Townsend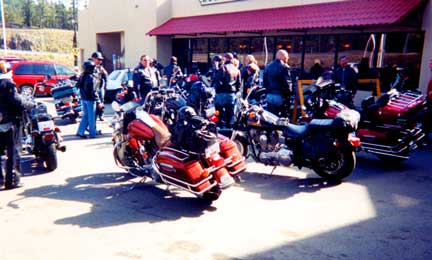 Well the lobster weekend has come and gone. All that remains are some ashes and these few pictures. A great time was had by all.

We covered about 400 kms under blue skies and warm sun shine. Fifty-eight fresh New Brunswick lobster met their demise to the enjoyment of very "Happy HOGS".

The weather cooperated, and everyone set out and got home safe because of the sacrifice we made that evening, (Kamloops Hog barbaqued a Yamaha).

We met about sixty 'Angels' along the way but they had there party to go to and we had ours.
The synch on music and images will vary with your processor and might even cause your machine to crash. Please let me know how these things work on your machine and
let me know
processor speed. Editor