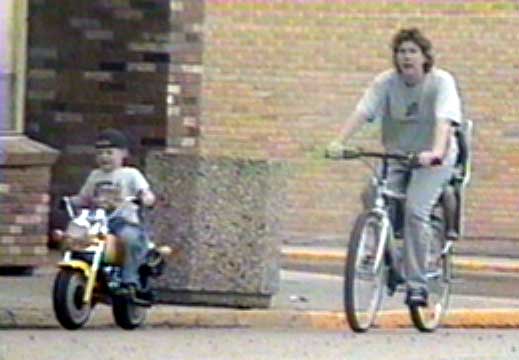 Motorcycle Escort
FTLComm - Tisdale - Wednesday, June 13, 2001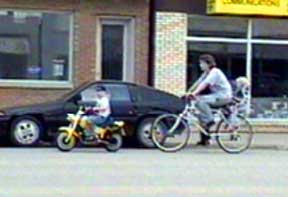 Sunday afternoon this scene was captured on video tape. What we have here is a motorcycle escort, mom with little sister or brother on back and junior mounted on his electric Harley.

The puttered along the length of main street the little motorcycle kept closely in rein and being driven with precision by its short operator, which by the way, looked like he could use a helmet.

The motorcycle seemed to run remarkably smooth and though not offering the rider much exercise looked like a fun thing to drive and utterly silent.

This weekend as part of the motor madness weekend we will have a whole lot of rumbling two wheelers visiting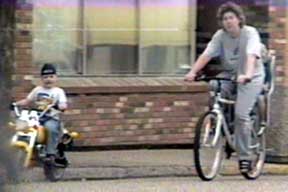 the community and putting on a show and shine to let us all look them over.

A contributor to Ensign, Michael Townsend, has shared some of his adventures with the Kamloops club and two weekends ago he and his gang were on the road in a poker rally when Michael, who was lead encountered a black bear who had decided to stage a sit in on a BC highway. Mike stopped his group and though they roared and yelled the bear ignored them. I wasn't until a car came along and threatened the bear that it was persuaded to move off into the ditch and let the twenty Harleys or so pass.

In the mean time this guy is a few years before he takes to the open road.