Housing sixteen ready for walls
FTLComm - Tisdale - Thursday, July 3, 2008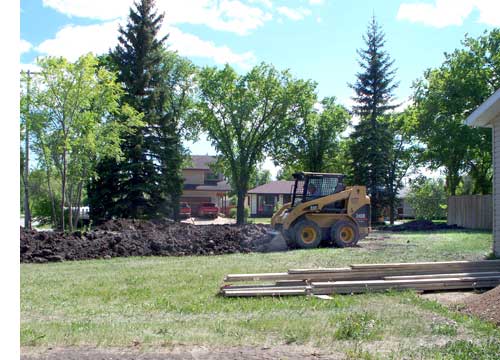 In the picture at the top of this page is how this project looked this morning. This sixteenth housing start is located on the old highway across from the Doghide.
Chupa Trucking and Excavation began work on the preparation of the site on June 10th (right) with the installation of water and sewer lines then squaring off the area for the foundation. Since this site had a house on it the water and sewer installation was pretty straight forward. The owner originally wanted to pour a slab and erect his new home right on that base but it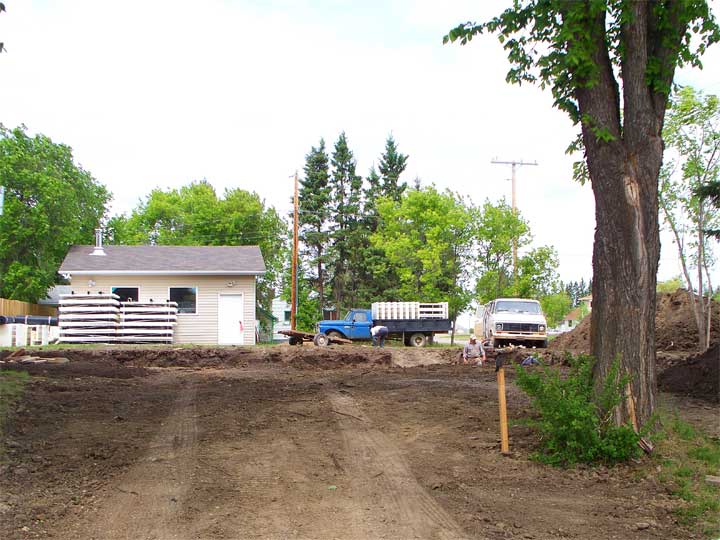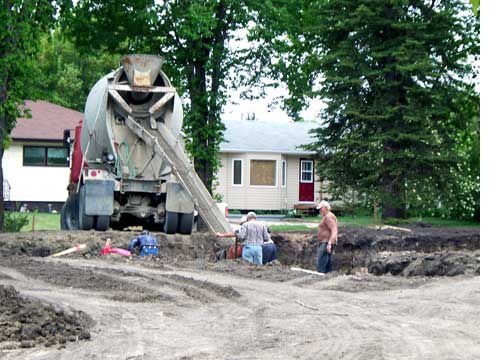 became obvious that a much more stable base would be need so footings were put in place on June 11th (above). This picture was taken just after lunch and just before five that afternoon (left) they poured the footings.
In the picture above you can see the foam forms piled up ready to be installed to form the house's concrete foundation.
On June 26th (below) the forms had been poured and the outer surfaces treated to have water proof barrier for the insulated foundaton.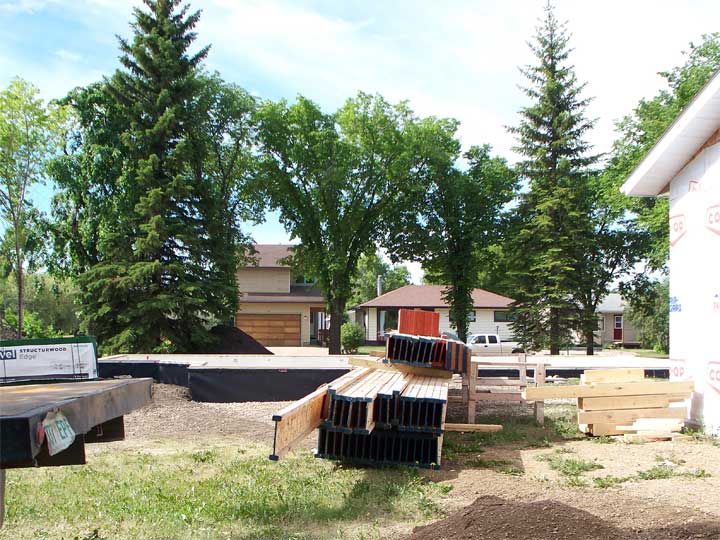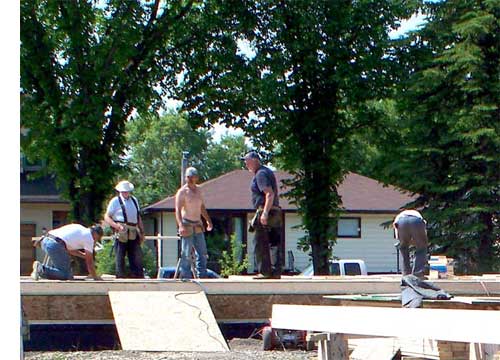 In the picture above you can see the floor joists are ready to be installed and in this last picture taken a few minutes after the one at the top of the page the work crew have the floor in place and are getting ready to begin assembling the structures walls.
This lot is well above the street level on two sides so it made good sense to set the house on a solid foundation. This makes this house similar to house fifteen which also does not have a basement but in that case they chose to go with a wood structure for the foundation.
---
Return to Ensign or Saskatchewan News
This page is a story posted on Ensign, a daily web site offering a variety of material from scenic images, political commentary, information and news. This publication is the work of Faster Than Light Communications . If you would like to comment on this story or you wish to contact the editor of these sites please send us email.
Editor : Timothy W. Shire
Faster Than Light Communication
Box 1776, Tisdale, Saskatchewan, Canada, S0E 1T0
306 873 2004