99¢ Mama burgers made it an easy decision for me to attend the first anniversary of Tisdale's A&W. It seems hard to believe that it has been a full year since this franchised restaurant opened for business. As I sat savouring my medium sized chilled diet root beer I spotted the tear in the seat across from me and wondered how much business this place has done since last November. Then I was joined by these two flies who were joyiously enjoying the sun.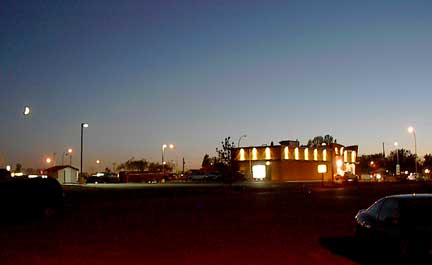 Believe me, those two flies do not reflect badly on the cleanliness of this place, but rather are a sign of the steady flow of customers. I was sitting at one of the two empty booths. I had chosen this one to separate myself from the two tables of smokers. I can understand the desire of the owner to accommodate the few smokers who still exist, but the place is just to small for both smokers and non-smokers and my guess is that more customers avoid A&W, or at least visit it less frequently, because of those two smoker tables.

As I was munching on my second Mama burger a waitress came by with a bucket to draw a prize and I won a free cup of coffee. I smiled politely and pocketed the coupon for a cup of the very worst coffee in town, only Tim Horton's makes worse coffee. I have discovered that I am not a minority in disliking the acrid taste of dark roasted coffee which reminds me in its aftertaste of ethanol-glycol (anti-freeze).

A&W has really done a fine job of becoming part of Tisdale with events like today's anniversary celebration, but also pitching-in and being involved in almost every community event to come along. The business has been rewarded with a loyal following of regular customers, no doubt people who have an acquired taste for anti-freeze, but also because the restaurant has really made a local effort. Their "farmer's" breakfast special is a good buy that I reviewed some time ago and consider it a good value. I tried out the newest burger on the menu, the "steak burger" the other day and I was very pleased with its flavour. The thing is, A&W produces some outstanding flavour in their food, my wish is that they had less fat in all their burgers and less sugar in their buns. But their root beer is absolutely unsurpassed, except for its very high price. The regular, though really great tasting drink I had today, was close to two dollars when you figure in the tax and that seems excessive, especially when you realise that unlike Subway, there are no refills.

When you disregard the shortcomings of fast food and its dietary problems, A&W has been a real addition to Tisdale and the full house today tells the story, I am not alone in that opinion.
Return to Ensign - Return to Saskatchewan News
This page is a story posted on Ensign and/or Saskatchewan News, both of which are daily web sites offering a variety of material from scenic images, political commentary, information and news. These publications are the work of Faster Than Light Communications . If you would like to comment on this story or you wish to contact the editor of these sites please send us email.
Editor : Timothy W. Shire
Faster Than Light Communication
Box 1776, Tisdale, Saskatchewan, Canada, S0E 1T0
306 873 2004