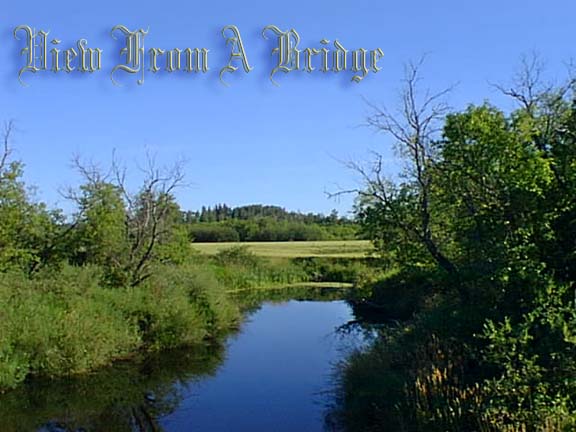 FTLComm - Tisdale - August 7, 1999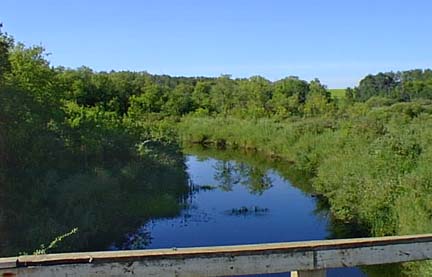 This morning about 8:30 I was North of Tisdale and came over this little bridge with the reflective water and clear blue sky making this a scene I wanted to share with others.

The myths about Saskatchewan are mostly about harsh winters barren dusty flat fields and howling winds. Not here, the abundant growth along the stream shows the generations of positive growth conditions and the mystery of a place that can be so different from so much of its surroundings.

Little streams like this are just teaming with life. Birds, mammals and water life of
all kinds.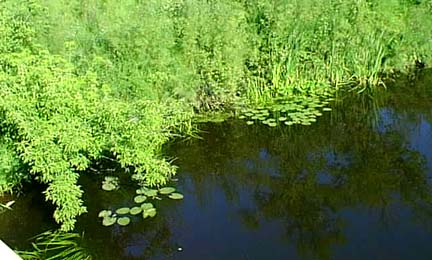 In this picture the
water lilies floating in the stream and the trees reflecting off the surface combine both the real and the illusion that makes this an interesting habitat.

For most living things that live in this microcosm this is the whole of their universe. This is their place, all that is, is right here about them. Imagine the view of this world as a frog, a turtle, a snake, a dragonfly or a wessel. A place in harmony and conflict full of adventures and almost self contained.

The large animals like the deer, fox and Buteo hawks are as much intruders into this world as we humans who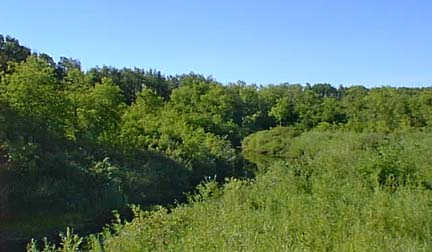 pause to soak up its smells
and placid calm.

When I drive into one of these little valleys I so often have the same feelings of this being a special spot as it is in such contrast to the mesmerizing flatness of the prairies. However, the flat open prairies are overwhelming they are not able to function without drainage and the sort of life that emanates from these contrasting tree filled mini-valleys. The place that I always see a mere copies is near Weyburn, a little village called Trossachs which has just such a little treed stream with aging foliage .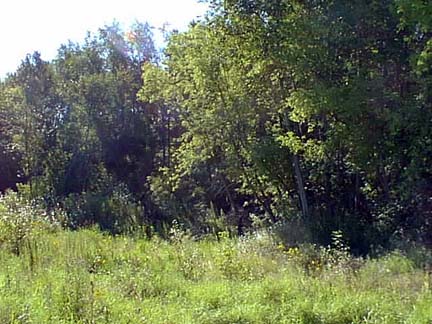 I thought that these pictures of the stream, though pleasant and interesting, would not tell the story without a shot of a standard Saskatchewan poplar groove in summer, Complete with its tall shoulder high grasses and some nettles.

Invariably, for those of you who have charged into such places, you know that the ground is always damp and clay based. You also know that although it looks great, only a few minutes in that deep grass will soon have you swatting at the blood thirsty female mosquitos who await every warm blooded creature who comes near. Most importantly, every single day of the year is different here. One day of summer leads to another, then to fall and then to winter and spring the leaves come and go, the colours change and all is never the same.