The basic school bus has been pretty well the same design since they first appeared, a bus body sitting atop the nose and chassis of a truck. The appearance of the big lights in the 1960s was about the only change in appearance with the exception of mirrors and signs of one sort or another. But it looks like the time has come for a change.
Thomas is the largest manufacturer of school buses in North America and churns out 15,000 yellow machines a year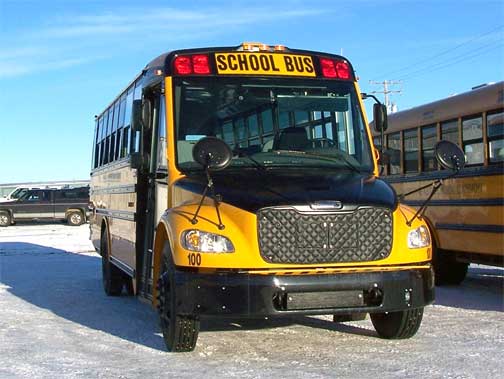 from its plant in High Point ,North Carolina. Two years ago they re-designed the basic bus creating the Saf-T-Liner based on a diesel powered Freightliner chassis. The nose is designed specifically for school buses to give greater driver visibility and the single piece windshield gives the driver a pretty impressive panoramic view of the road ahead.
The second largest bus manufacturer, Blue Bird has also re-designed their bus with a similar trimmed down nose but they continue to build a more conventional body design.
You will notice this machine, number 100 has dark tinted windows which is a real improvement for dealing with high temperatures during the summer months. The high reflective tape and roof strobe light are locally installed features to improve the machines visibility.
The process of making school buses safer is an on going one with so many students traveling each and every day so far in these things the numbers of mishaps with them is simply going to increase. Only last week six of them got into a chain reaction crash in the United States.