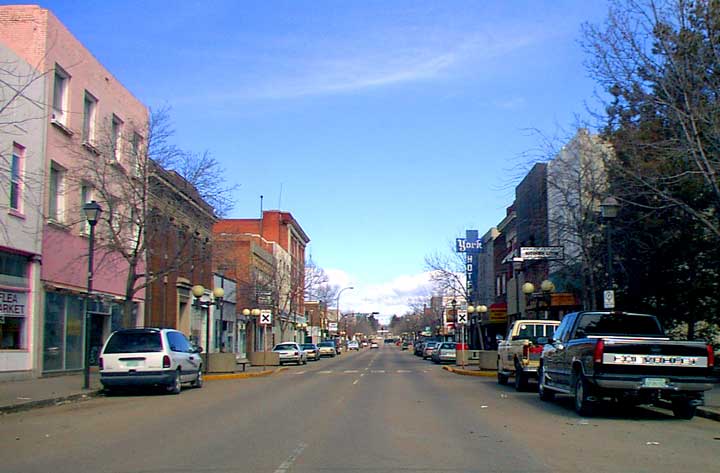 Dry Southwest, as agriculture's wounds devastate business
FTLComm - Swift Current - Tuesday, March 25, 2003
Swift Current is one of Saskatchewan's primary farm service centres, with a population close to that of Yorkton, its fifteen thousand residents have had a rather mild winter, much like the other winters they have experience in the past few years with little snow, high winds and lots of sunshine. But the main topic of concern for this community is indeed the sky and what is might bring this spring.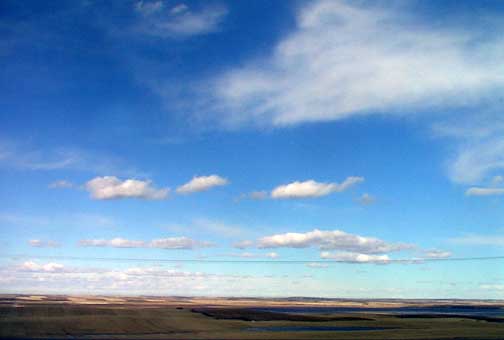 With one of the worst crops on record, farmers have no money to spend and a community like Swift Current depends on the commerce from the farm communities that stretch out across the rolling dry plains of Southwestern Saskatchewan.

In June of last year we spent a few days in Swift Current and I had a chance to stroll down main street and amble through the two shopping malls. At that time a considerable number of shops downtown were empty now even more are closed and those that are open, bear the marks of hard times, pawn shops, used furniture, thrift shops, with many businesses with hand painted signs, this is not the sign of prosperity.

The Wheatland Mall is the older of the two shopping malls in the city, anchored with WalMart on one end and the Pioneer Co-op on the other, but in between there are still some open stores, about about every other one is now standing empty. Though we did not visit the other mall anchored by Safeway and Zellers we were told that the vacancy rate was the same or perhaps worse.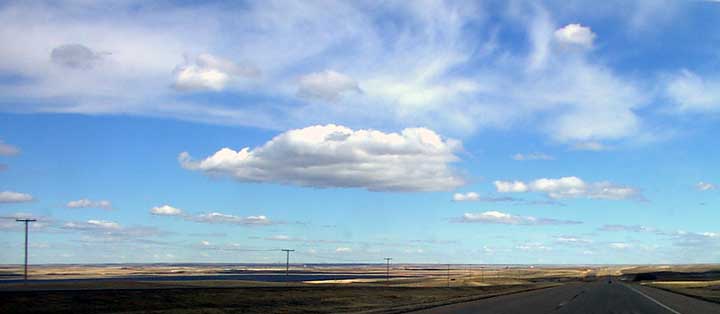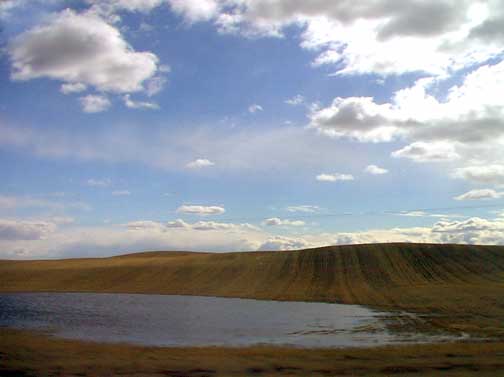 On Sunday, two booster type advertising papers were delivered, each with their usual slug of fliers for various outlets, but it was troubling to notice that one of them was actually from Medicine Hat and there were fliers in the bundle for stores that do not operate in Swift Current. Less than two hours drive from Swift Current is the "no sales tax" market place of Medicine Hat and in tough times the mobile market will take to the roads to find a bargain.

Above, we are looking from Rush Lake toward Herbert with no evidence of winter snow. However, small sloughs like this one, indicate that there was some winter precipitation and with continued warm weather and the more than thirty mile an hour winds we were driving in Sunday afternoon, suggest that these fields and ponds will dry up pretty quickly.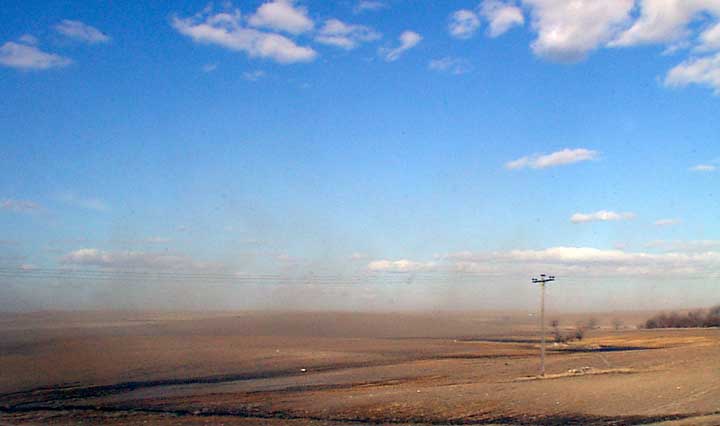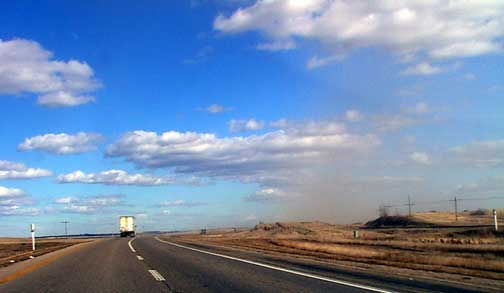 From Herbert to Ernfold the monotonous desert tans and browns made up the scenery but just East of Parkbeg this was the scene. A field that had been worked up in the fall and its stubble turned under, was taking to the air, as its top soil was well on its way to Cairnport. The contrail of that field swept over the highway and East ahead of us in a big dirty cloud. Not a good sign.

Those farms with cattle are just finishing off the calving season and a farmer near Maple Creek told us that his herd was looking good. The late summer had brought enough moisture for him and he had turned most of his crops into feed. His main problem was water. His three hundred head were gobbling up that dry feed and need to wash it down with something and it was taxing his two wells. The sixty-foot, thirty inch well in the field, was filling to slowly to meet the demand from the herd and he was drawing water from the house and yard well hoping that the field well would regain enough water to keep him going.

Sunday night, the precipitation was centred between Southey and Naicam in a band of rain mixed with snow that was moving horizontally with winds of up to forty miles per hour. Rain will be the only solution for the cows, for the farmers and for the merchants still hanging on in Swift Current.
---
Return to Ensign - Return to Saskatchewan News
This page is a story posted on Ensign and/or Saskatchewan News, both of which are daily web sites offering a variety of material from scenic images, political commentary, information and news. These publications are the work of Faster Than Light Communications . If you would like to comment on this story or you wish to contact the editor of these sites please send us email.
Editor : Timothy W. Shire
Faster Than Light Communication
Box 1776, Tisdale, Saskatchewan, Canada, S0E 1T0
306 873 2004