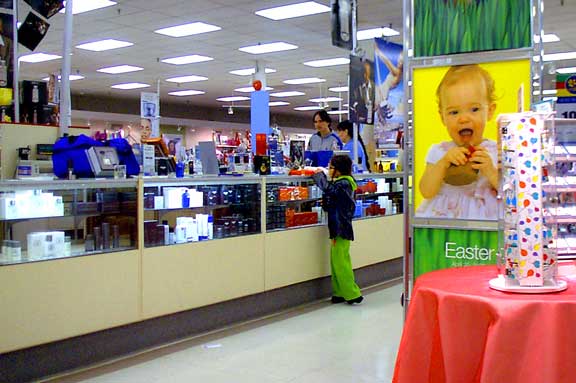 Yorkton Mall
FTLComm - Yorkton - Monday, April 14, 2003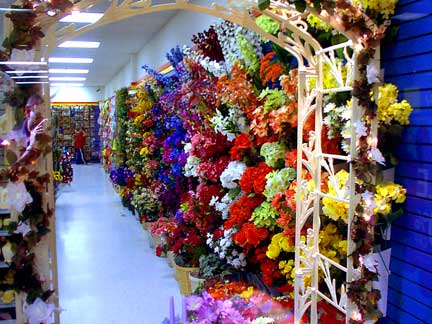 We spent the late 80s living in the Yorkton market area and enjoyed browsing around the Yorkton Mall Saturday afternoon. There have been some changes as the strip mall on the West side of the city was torn down and a whole set of stores including Canadian Tire, Wal-Mart and SuperStore have new outlets a block from the East mall.

There are some empty spaces in this large shopping centre but as you can see in these Saturday afternoon pictures there were lots of shoppers.

Perhaps most noticeable is the sense of optimism both with the businesses but also with the customers. We began our tour in the Bay and this extremely well stocked department store is a remarkable part of the whole shopping centre with excellent quality and a friendly staff.

The picture at the top of the page perhaps best describes the mall's atmosphere. That short shopper is checking out the fragrances which were on sale, it is doubtful if she is pricing out a $60 bottle of Celine Dion but you have to admit there is optimism in that picture.

The artificial flowers line the wall of the biggest "Dollar" store I've seen.

Below is the mall looking West toward the Hudson Bay anchor with the food court on the right and the new IGA which replaces the Safeway to the left. You can look around this scene 180º with the next picture below a QuickTime Virtual Reality image. Put your cursor on it and look around. If no image appears you will have to download QuickTime.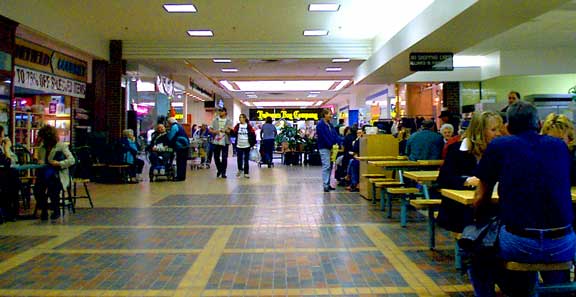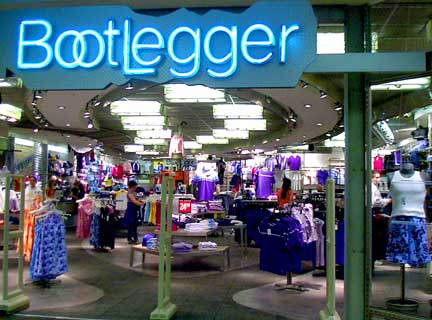 The East end of the mall has a number of stylist shops this Bootlegger really caught my eye with its extremely attractive setting.

The East end of the mall used to be anchored by a K-Mart but that floor space is now home to a really huge Zellers. What makes this interesting is that both ends of the same shopping mall have stores owned by the same company.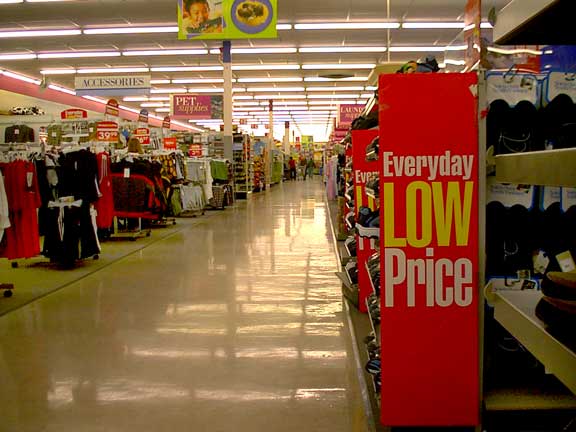 ---
Return to Ensign - Return to Saskatchewan News
This page is a story posted on Ensign and/or Saskatchewan News, both of which are daily web sites offering a variety of material from scenic images, political commentary, information and news. These publications are the work of Faster Than Light Communications . If you would like to comment on this story or you wish to contact the editor of these sites please send us email.
Editor : Timothy W. Shire
Faster Than Light Communication
Box 1776, Tisdale, Saskatchewan, Canada, S0E 1T0
306 873 2004