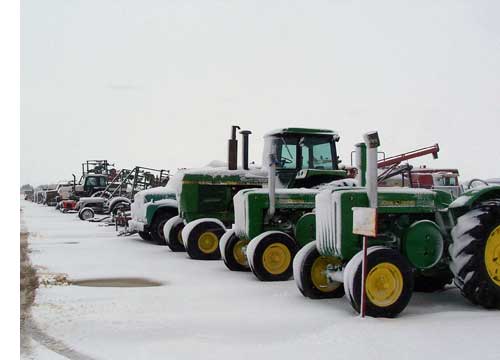 One of Tisdale's major business operations is Schapansky Auctioneers who hold several large equipment sales each year. One of the most important of these is the first big sale of the year in April and it takes place next Tuesday, the twenty-first.
In years past this spring sale has had its ups and downs when it comes to weather. Some years have been outstanding spring days while others have been nasty rainy or dreadfully cold ones. This year we have got the bad stuff out of the way with the snow storm today the temperature is due to improve and Environment Canda is predicting sunny and 12ºC for sale time next Tuesday.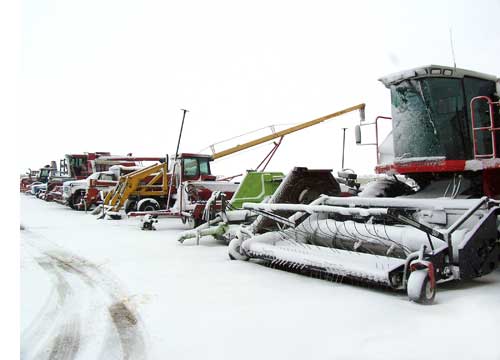 I dropped by the sales yard this morning around 9:00 and there were a few other vehicles in the yard scoping out the rows of equipment neatly parked for this spring sale. Not being a farmer I did not prowl up and down all of the rows but it is obvious that a wide range of modern and field ready equipment is going on the block. But as always there are some other things that will interest bargain hunters.
I was especially impressed with the vintage tractors. At least two 1952 type Fordson tractors and sitting side by side two similar vintage John Deere "D" machine decked out in fresh paint.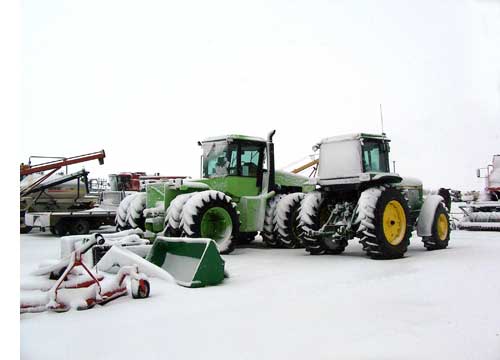 As is always the case the spring equipment sale always has more than just farm equipment. There are usually some bulk goods like lumber and other materials vital for the operation of a modern agricultural operation. Some of the most interesting stuff are the small parts, tools and shop equipment that seem to find their way to a sale like this one every year.
This spring's sale has a large number of late model vehicles, especially several fairly new pickups. There are also a good number of boats, campers and cars.