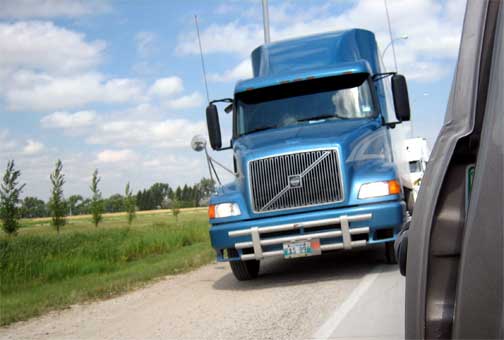 but there was some curious annoyances. Clearly with traffic backed up for miles we all had to wait out turn but there are those and it seemed like many who were determined to jump the line. The semis, it seemed like hundreds rumbled by inches from the van on the gravel shoulder forcing people out of their vehicles to flee from the horde and mixed into these mamoth machines were the line jumpers doing their damndest to get to the front of the line and nose in front of the traffic lined up and waiting their turn.
Most of the vehicles in the line up were shoppers from Winnipeg out, like ourselves to take advantage of the long weekend and do some bargain hunting in Grand Forks but we saw vehicles from most other Canadian provinces and it seemed like a lot of the states as well.
It was close to three scorching hours before we made it on to the relatively empty interstate and in just over another hour we were in Grand Forks, hot and hungry.
With only the afternoon to shop we stuck to the massive department stores, Macys, JC Penny, Wal Mart and Target. My experience in the past has been that once you add up the duties and taxes and put the cost of gas and meals on to the purchases you would have been better to stay at home but this was the exception.
The Canadian dollar's strength made it almost at par for shopping purposes and we discovered that the American stories are into big sale events, either suggesting a slow down in their economy or inventories larger than expected sales. It is hard to know what the factors were but we did indeed found bargains and when you consider we were shopping mostly in Macys and JC Penny we were buying clothing far below similar products in Canadian stores.
For a single day shopping we were exempt $50 a person and all clothing made off shore was subject to a 17% duty plus GST. After sorting out the bills at Canadian Customs we discovered that the customs officials were bang on in saying that 95% of our purchases were not made in continental North America. It is important to note that the American Customs officials were as pleasant as the Canadian ones so that the actual border crossings both ways were utterly painless.
The factor that is hard to swallow with a trip like this is to realise that in several ways Canadian business is not playing fair with the Canadian consumer. We filled up the van in Grand Forks with fuel that cost us 76¢ a litre in Canadian funds and almost certainly that fuel came from the Regina Co-op refinery. Even with a line about excessive taxes it is hard to understand a 34¢ difference.
The rise in the Canadian dollar should have meant a decline in the cost of products in Canada that are imported but that has simply not been the case. All you need to do is look at the printed price on a magazine or book and you can see the gouging. The same is taking place at car dealerships. Right now if you are buying a book order it online from Amazon.com and if you are buying a new car especially one made in Canada buy it from a US dealer and save yourself a lot of money.