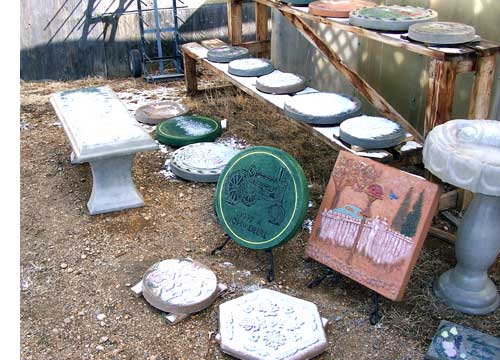 When I got up this morning the yard was white with fresh snow and when I emerged from the house the air had the cool tingle of a fall day. It is clear to me that what we need is a little spring around here. For more than a week or so the Four Seasons Greenhouse west of Tisdale on highway #3 has been open for business and though I wanted to pay them a visit I just had not got around to it. But with the cool air and snow today seemed like the day to make that visit.
The garden path stones out in front of the greenhouse were in the morning shade and still had snow on them but when I turned the latch and stepped into the greenhouse (picture 003) I could feel the affects of a smile splashing all over my face.
I wandered around clicking away from one portion of the lay out to another. The pictures below are in sequence so you are moving along with me as I take my pictures. Besides the colour and sense of vibrant growth the aroma of the flowers and foliage really tickled the emotions. I am convinced that a visit to the greenhouse is the best therapy available. Even if you aren't a green thumb type hunting for the plants to do up your yard make a trip to a greenhouse and soak it up, it will do you good.
To browse through the pictures below click on one and then just navigate through the collection.