When we see signs like this one it sends shivers up the spine of townspeople, most are sensitive to the situation but most, including this reporter feel for the merchant and hate even to pry and find out if this does mean that this business is planning to close down?

Retail in Saskatchewan's towns and villages is now beyond seige mentality and into the sort of mental space one must have after a battle as stretcher bearers collect the wounded and identify the dead, while small skirmish teams do what is casually referred to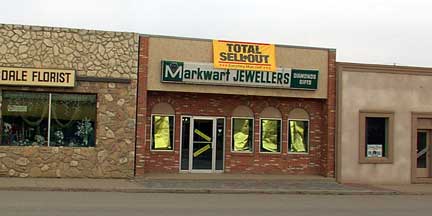 as "mop-up" ending those few pockets of resistence as the victor controls the field. The fact is that in a battle field though one side may declare victory and have control of the ground gained, everyone suffers losses.

Though it may seem melodramatic to compare the retail war in Saskatchewan to combat, for those in the thick of the fight, they experience victory and many ignomous defeat. With the argicultural income in the red there is no disposable income. People buy the necessities, and most do so with what little credit they can muster and the luxuries are, well . . . they are luxuries, for other people.

Traditionally, banks and lending agencies viewed cafes and computer businesses the most risky and only one in four or five that start up can be expected to succeed for more than five years. Now it seems that all lines of business are in danger and we all have to re-align our thinking. Businesses do not fail because their owners and managers are failures, they fail for a variety of reasons, such as insufficient capitalisation and over competition in a specific sector. When you translate these excuses they really mean that the owner did not have enough money to lose and the market was devoid of customers.

In the economic climate of this era, a failed business must be consider apart of the normal course of affairs and should in no way reflect negatively on the entrepeneur, any more than farmers who are forced to sell out should be thought of as failures. The economic conditions are adverse in the extreme and there is no light at the end of the tunnel.