It seems to work out that by Friday noon my fridge just no longer has what it needs to satisfy my desire for a descent lunch and I begin to consider alternatives.
It looks like the first choice for lunch in Tisdale, Saskatchewan is at the north end of town at Mr. Ribs where from 11:45 until 1:30 the parking lot is choked full of vehicles.
This suits me fine because I seem never to get around to that search through the Friday fridge until about 2:00 and for several weeks now that has lead me on a quest for a good lunch.
I have to agree with the majority who flock to Gus Korolis' Mr. Ribs restaurant because it has the town's best lunch. Now there are several things that make up a great lunch and you have to consider these as factors that will appeal to a wide range of people. Reasonable pricing for the meal's value, flavours and presentation, service and perhaps the most important factor, a satisfying healthy nutritional meal.
Lunch is tricky because you don't want a heavy meal to put you to sleep for the afternoon but you want something that gives you a feeling of having eaten a proper meal.
Mr. Ribs wins on all counts and does it with one simple method; variety. Each day there are specials for lunch but that includes four choices from a $5.50 soup and sandwich through to a $9.00 steak sandwich. Since the soup is always a winner at Mr. Ribs you will make it to supper on the soup and sandwich.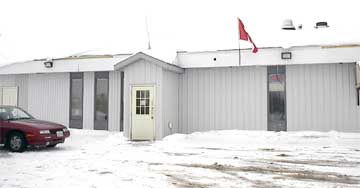 But, the bottom line in finding that great lunch is not necessarily the food, quality and variety. It should not take an hour to have a lunch and the trick is to have an efficient friendly staff. This is where Gus really shines, Mr. Ribs is a family operation with a number of quick and friendly waitresses who keep your coffee cup full and whisk your soup to the table a minute after you order and have that hot meal in front of you when the soup is finished.
Gus Kokolis is the one with the mustache in the picture at the top of the page but the guy who shows up when I do for lunch is his first grandson with all six of his new teeth and a smile to show them off.