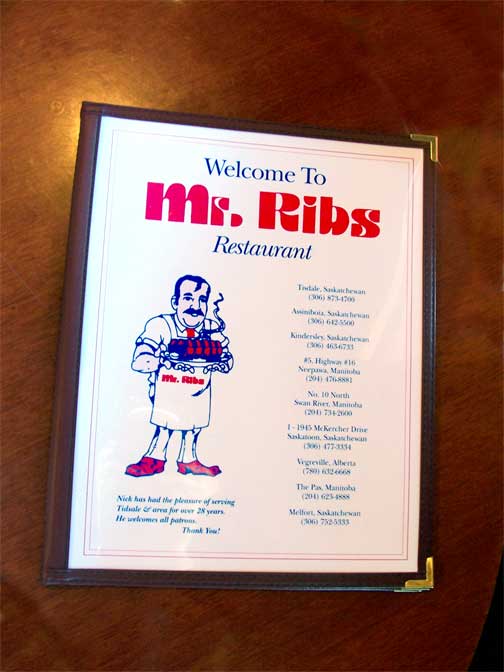 Today at eleven a new, but also, "old," restaurant opened in Tisdale. "My Way" in the Tisdale Mall closed more than a year ago, but it has been remodelled and given a new paint scheme to match the new operation.
Mr. Ribs was located just east of the United Church when we moved to Tisdale back in 1995, but unfortunately that building was lost to fire. The restaurant had become a franchise with outlets in many communities and re-opened in Tisdale just sourth of Wicks.
That business was taken over by Gus and just this summer broke away from the franchise to become Gus' Greek Ribs, so now the original owner who has been doing business here in Tisdale for twenty-eight years is back and opened today in the Tisdale Mall.
This is a new restaurant where everything is familiar. The menu with its seniors and kids specialty menus is the same and each lunch and dinner there are specials to compliment the established menu items, which include Greek favourites, Pizza and a very wide selection to suit every diner's palette.
The new Mr. Ribs will open at 11:00 each day and will give a boost not only to the Tisdale Mall, but to the Tisdale market place, offering a familiar choice to the public.