From time to time we have mentioned on this web site new businesses that have opened their doors and Tisdale and noted when some have closed. The business community is a dynamic one and with fewer and fewer people in the rural agricultural part of this and surrounding communities there are bound to be adjustments.
We noted some time ago when the Movie Gallery closed and pointed out that the business of movie rentals is about to change dramatically as people are going more and more to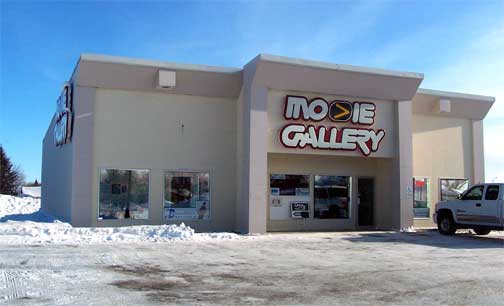 download directly movies from the Internet. One reader mentioned to me in e-mail yesterday that he was watching National Treasure which showed in this area during the past week or so and was also watching Sweeny Todd which opens in Melfort this weekend. Entertainment times are changing dramatically and quickly.
Century 21 / the Tisdale Insurance Centre has moved into the Movie Gallery building and already sold their old office to another business. The Movie Galley building is only a couple of years old and makes a perfect location for real estate and insurance offices.
It was almost a full ten years ago that a large retail space in the mall was converted into a pool hall / sports bar. The first business to operate the facility was Shooters and after a couple of years it sold and became Lil Willies which changed hands and has been struggling along.
Today I see the sign has been taken down and a rental truck has the pool tables on board so it would seem that this business has at last reached the end of its operation. Tisdale is a small market and with its two hotels operating bars the marketplace was stretched pretty thin especially when you consider that liquor establishments are having a difficult time of it as there seems to be a shift in the consumption of the product which has coincideded with the laws related to tobacco consumptions. This is hard to understand because over all in Saskatchewan the percentage of the population who smoke has not declined much in the past few years when compared with other provinces.