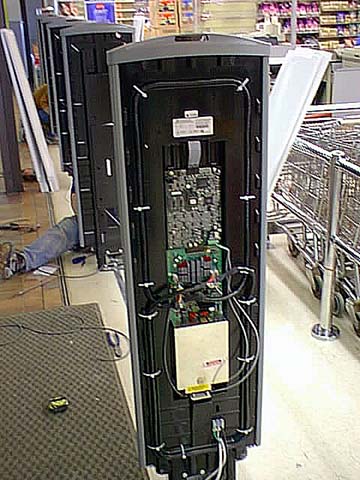 Work continues as Best Value is being prepared for its grand opening on April 15. Products are starting to move to the shelving and bins,only the pharmacy is still shrouded in plastic. It is surprising to see the huge grocery department within the store which will increase the competition for many prepared and canned goods sold in Extra Foods and the Coop.

From the beginning it has been clear that Best Value is aiming at operating this outlet with the most minimum of staff. As we mentioned in our last article on this store they will have no full time employees. The check out stations in the store have been reduced from the six islands in the former Zellers store to four.

Just as we saw during the initial sell off of the Zellers stock, the low staffing has forced the store to have extreme security measures as with their door guard and now we see the installation of magnetic detection scanning devices which can spot un-degauzed pricing labels. Obviously the company considers the expense of this system to be offset by the reduced work force within the store.

Tisdale depends very heavily upon this outlet being the same kind of draw that Zellers had been, as it attracts rural customers to the town who might just keep right on driving on into Prince Albert. Nipawin has experienced an extreme drop in commerce as a result of loosing the Met as customers looking for general merchandise from Cumberland House, Shoal Lake and Red Earth have already driven up to two hours so what is another hour and a half to go into Prince Albert. The market place today is so highly price competitive that every store and every community is pitted against one another and extreme measures seem to be the order of the day. One has to ask oneself if these trade-offs are acceptable and what affect do they have on the quality of life.

I for one believe that security of this type invites shop lifting rather then deters it. A strong magnetic field can defeat the tags on the merchandise and by placing this obvious system at the store's front it is pre-assuming the customer is not to be trusted and since that is the mentality of the store keeper we have to assume that he is also a thief. I regret that this does not bode well for the commerce in Tisdale as we are seeing a merchant out of step with the community in which it is located and building low confidence and low expectations for its participation in the community's commercial environment. If Best Value expects its customers to steal from them, we know that the products on the shelf and in the bins are likely to be counterfeit or substandard. Harsh assumptions, but people perceive stores as if they are a single entity and this one has an ugly side.