Breakfast At Zellers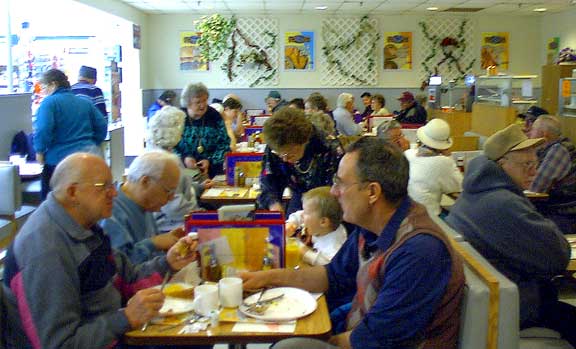 FTLComm - Tisdale - January 28, 2001
Breakfast for 99¢ at Zellers Saturday morning. The idea of a promotion to get shoppers into the store in the first part of the morning is an excellent plan for a major chain like Zellers. The 99¢ breakfast consists of two small eggs two pencil line thin pieces what is suppose to be bacon and two pieces of toast. Though the breakfast will make you hungry while you eat it the service is quick and the place jammed yesterday morning.
The interesting point is that though the breakfast was well below what could be honestly referred to as minimal these people many seniors still see a bit of food on a plate for the price of a coffee as reasonable and they will return another Saturday morning.
The main effect for the store is what you saw. Ensign was late, so late in fact the main story of the day was not posted until 5:00 in the afternoon because after breakfast we leisurely strolled about the store shopping then wandered into the mall to pick up a few more things (I lost $10,000,000 my Wednesday lottery tickets did not win) and then into Extra Foods. Long before we headed for the car I was seriously thinking about the need for lunch, but the point is Zeller's promo worked. It brings the shopper out and they buy things after breakfast.
Beeland Co-op has a much better breakfast at three times the price and five times the value but they do not open their doors at eight as Zellers does and they we were trying to digest pencil lines.