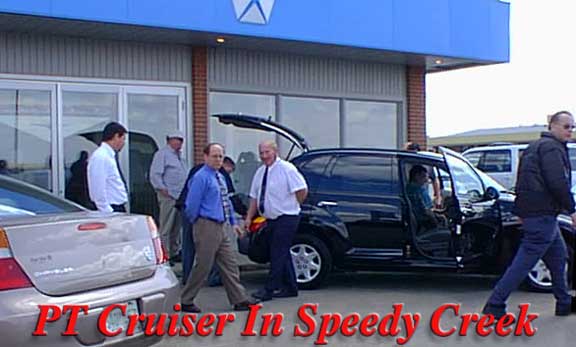 FTLComm - Tisdale - April 27, 2000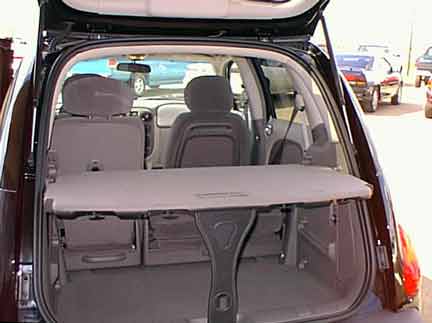 On Sunday we brought you a look at the Daimler / Chrysler's new PT Cruiser but the showroom just wasn't the place to get a good perspective view of the vehicle. On Tuesday the Daimler / Chrysler dealer in Swift Current brought their demonstration version out onto their lot to introduce it to the public and FTLComm was there to catch the smiles and chuckles of the salesmen and prospective customers as they gave this little black beauty the once over.

One of the salesmen had been at the Detroit show when this vehicle was first shown as a concept car and was there again this year when it was introduced as a production model. He explained that other versions of the Cruiser can be expected including utility versions. It seems that variations on this theme can be expected from this major auto maker and there are plans to make a right hand drive version for the British and Australian markets where the driving world is reversed.

The picture above shows the cover shelf extended on its top bracket for use as a picnic table, bar or for pre and after game tailgate parties. The leg that holds it up in place folds into the back of the shelf. They have the right rear seat folded down in this picture.

Below is a view of the vehicle as it looks sitting on the sales lot. This regular version will sell at right around $30,000 and is fitted with cloth seats.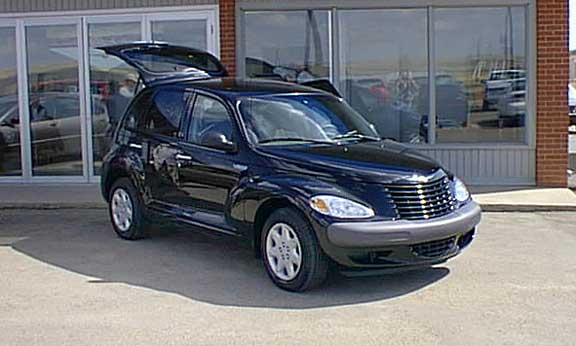 Click "Here" to go to Ensign Front page
If you accessed this page directly from an alien search engine you can see North Central Internet News by clicking here.
Ensign, North Central Internet News, published daily by Faster Than Light Communications, FTLComm