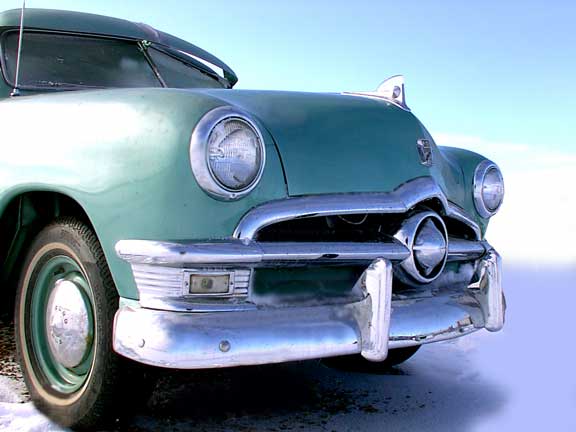 1950 Ford Custom sedan
FTLComm -Tisdale - Saturday, October 19, 2002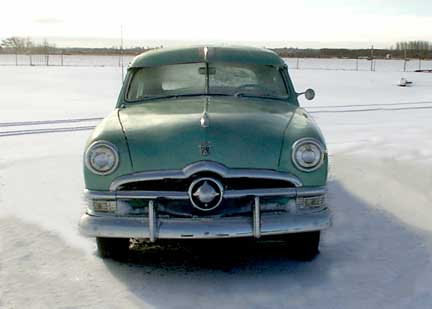 This post war Ford goes on sale at Schapansky Auctions in Tisdale on October 29.

The 1949, 50 and 51 Fords share this design and when compared with General Motors and Chrysler the integration of the fenders into the vehicle's design was well ahead of the competition where the wheel covers were still pretty much something that appeared to have been added on to the design.

The differences between the three years were very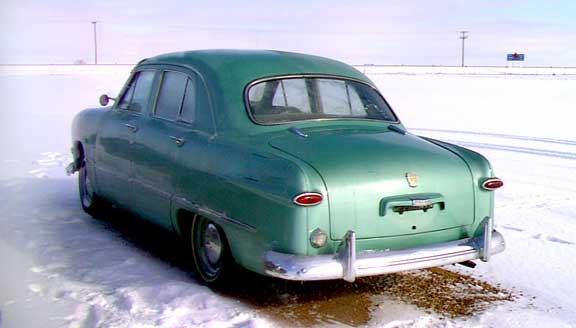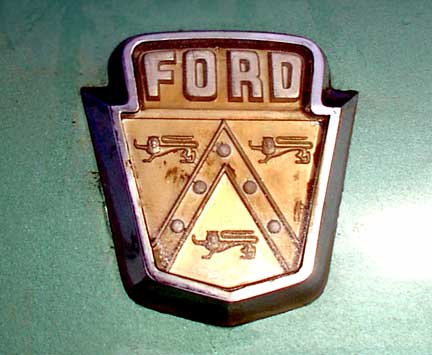 subtile involving hood crest and park lights.

This car has had a few after market additions which were common in the early fifties including the external rearview mirror, the sun visor and the little back up light.

The addition of metallic paint to the car was something that must have come along some time during its fifty-two years of life as metallic paint was not available when this car was made first appearing in 1952 as a new innovation. In 1957 auto manufacturers quit using paint altogether when they switched to acryllic.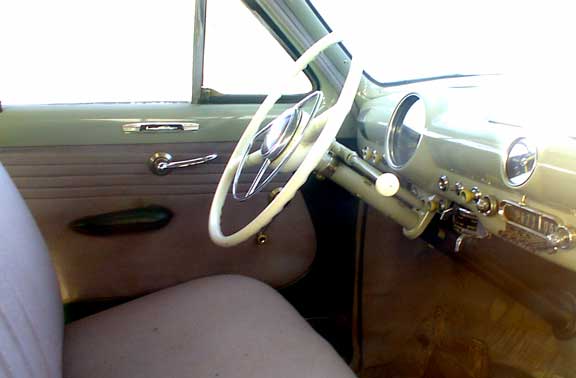 This design first made its appearance in 1948 when that summer the 1949 models were shown off to North Americans and immediately became the most popular car of those first years of the fifties. They were powered by a very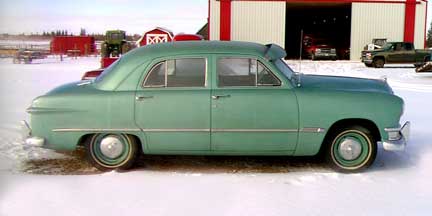 powerful flat head V-8 which had the problems of that era requiring a valve job at about 30,000 miles and a full overhaul at 60,000. This low level of durability was shared by all engine makers of the time and it wasn't until the arrival of hydraulic valve lifters in the mid fifties that began to see engines that would last as long as the body held together.

From this side view of the 1950 Ford you can see that it was a solid machine, well balanced on its fifteen inch wheels with leaf rear springs and front coils. Cars of this era were amazingly strong built on an "H" frame that passed the inertia of a collision through the vehicle without the modern crush capabilities. With out seat belts all cars of the fifties were deadly in even a minor collision.

Already in this design the influence of Studebaker with its aircraft features were apparent on the nose and clean lines of the car. The continued aircraft appearance grew even more apparent in Ford's next design with the headlines becoming forward tubes and the tail lights moved higher and turned into round jet engine shaped exhausts. By 1959 the huge afterburner tail lights even had reflective chrome cowling around the light with black lines to emphasis the circle.
---
Return to Ensign - Return to Saskatchewan News
This page is a story posted on Ensign and/or Saskatchewan News, both of which are daily web sites offering a variety of material from scenic images, political commentary, information and news. These publications are the work of Faster Than Light Communications . If you would like to comment on this story or you wish to contact the editor of these sites please send us email.
Editor : Timothy W. Shire
Faster Than Light Communication
Box 1776, Tisdale, Saskatchewan, Canada, S0E 1T0
306 873 2004