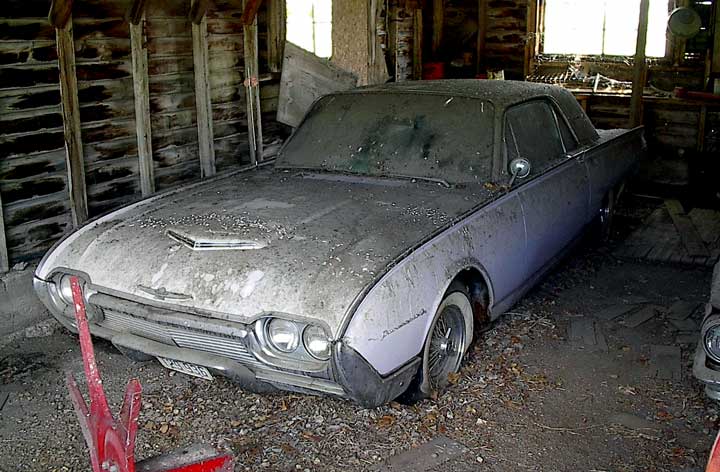 Nest of Birds
FTLComm - Tisdale - Tuesday, June 3, 2003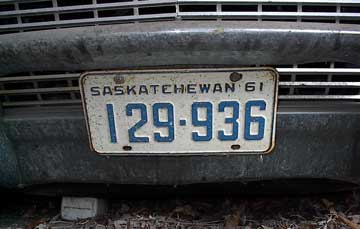 When I am out doing pictures of fields and farms it is not my objective to snoop into what is inside abandoned farm building but this morning the temptation exceeded my normal caution. I spotted a baler in front of an old garage and then glimpsed a car behind it. A causual look was this startling discovery.

Nestled in an old garage these to birds are sitting side by side. What appears to be a pink 1961 Thunderbird and a 1960 maroon version with a New York plate on its front bumper.

Both cars appear to be in outstanding condition with the exception of a couple of flat tires and little bird dropping and dust they are quietly bidding their time in peace.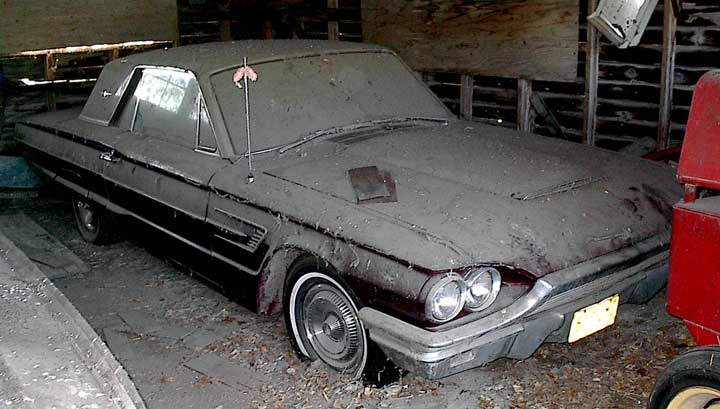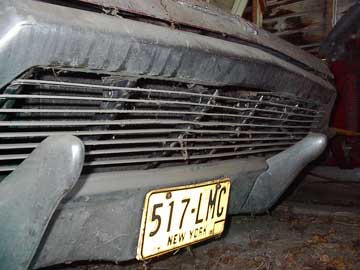 These cars were outstanding automobiles in their time, essentially luxury vehicles with all the trimmings cars had when Elvis was king.

Thouugh not particularly rare, Ford did not produce the Thunderbird at any time in huge numbers. They were a premium price and aimed at the affluent customer. Ford's Lincoln was about the same amount of money but its exclusive Continental was even more money and even made in smaller numbers.

Perhaps the most appealing thing about the Thunderbird were the interiors. I recall vividly riding for the first time in a 1958 version and I was struck with the attention designers had given to the inside of this car when it was compared to everything else on the road at the time.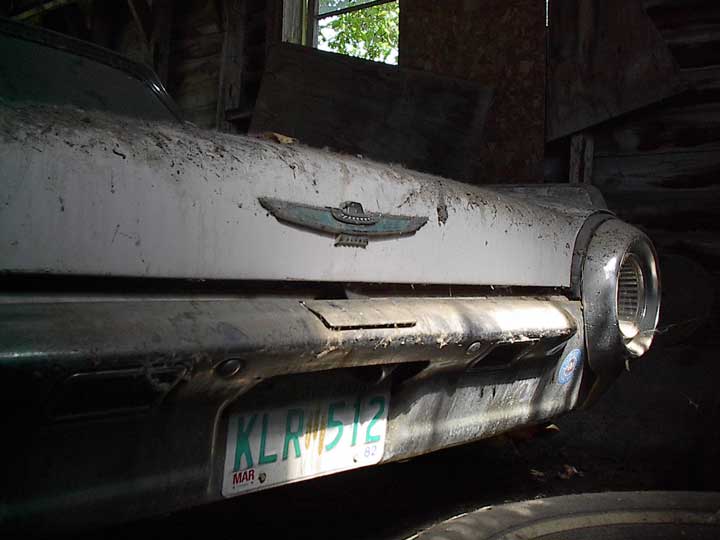 Below are the interiors of these two birds and it is interesting to note that at the time they alone had a centre console and a decade later this feature was almost standard in sporty type cars for some time.

---
Return to Ensign - Return to Saskatchewan News
This page is a story posted on Ensign and/or Saskatchewan News, both of which are daily web sites offering a variety of material from scenic images, political commentary, information and news. These publications are the work of Faster Than Light Communications . If you would like to comment on this story or you wish to contact the editor of these sites please send us email.
Editor : Timothy W. Shire
Faster Than Light Communication
Box 1776, Tisdale, Saskatchewan, Canada, S0E 1T0
306 873 2004