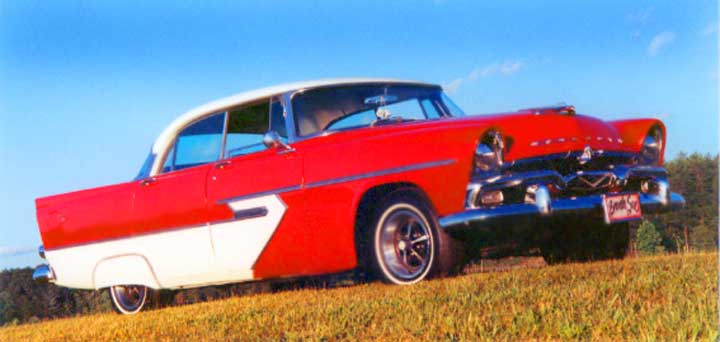 Neat Car - 1956 Plymouth
Thursday, February 13, 2003
I have a 56 belvedere four door hardtop car. It is 95% restored.
Perhaps you can give me your thoughts on a transmission change. I would like to keep the push button version, however, I would like to install one from a 1963 or 64. Is this possibly?
I have a parts car in the event you need parts. My good friend whose health is bad gave me the car since we have been friends a long time. His father bought the 56 belvedere new.
Since 1968 to 1975. Joe and I would seek out salvage yards for 56 parts. Most are in good shape.
Editor's note:
This often happens, because of the way this web site is constructed a person can search the web and discover a story but will not realise that the story is just that, a piece of a much larger daily web site. Mr. Stanley discovered the story about a 1956 Plymouth that was feature here August 2, 2002 and at that time there was no little note at the bottom identifying this as only a part of a large web site.
Now if anyone has some ideas on how Mr. Stanley can solve the transmission problem click on his name and that will get you his email. There are a lot of reasons he would want to keep the push button automatic transmission of the era, it was truly a remarkable devise and of course if worn out not replaceable now.
Some more 1956 Plymouths
1956 Savoy, excellent pictures
Original advertising images
Great pictures of a 1956 Plyjmouth
Some advertising pictures of the 1956 Plymouth
Yet another page of some of the same images and a short write up.
---
Return to Ensign - Return to Saskatchewan News
This page is a story posted on Ensign and/or Saskatchewan News, both of which are daily web sites offering a variety of material from scenic images, political commentary, information and news. These publications are the work of Faster Than Light Communications . If you would like to comment on this story or you wish to contact the editor of these sites please send us email.
Editor : Timothy W. Shire
Faster Than Light Communication
Box 1776, Tisdale, Saskatchewan, Canada, S0E 1T0
306 873 2004