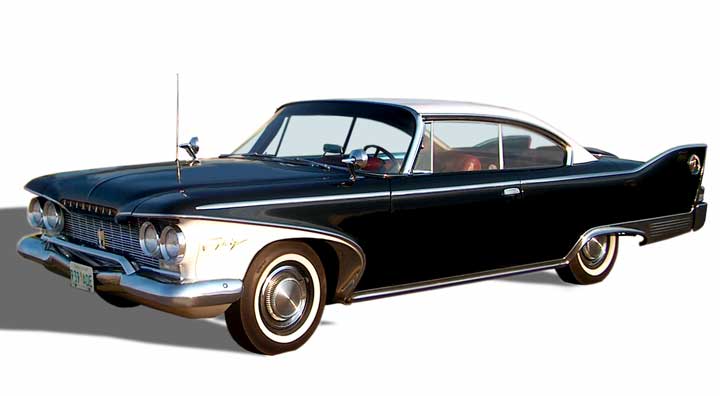 Pictures by R. W. (Bert) Shire
Plymouth Fury, 1958
FTLComm - Regina - Wednesday, July 23, 2003
In August of 2002 we posted a story that explained some of the background to car designs of the 1950s you might want to take a look at that story because there is no question that the designs Chrysler was developing in that era were part of the spirit of the times.

This remarkable example of a 1958 Fury two door hard top seen in Regina last week, really needs some explanation because in the context from which it came it was bigger and far more unique than either of General Motors or Ford cars of the time. Though the design is starkly obviously different Chrysler had produced some important other innovations to try to rest from the market a larger share.

In the 1956 model and retained for many years Chrysler had refrained from the large coil front spring used by other auto makers and installed a flatter and very much better front end suspension system using "torsion bars". With normal shock absorbers and the simple design of a steel rod that absorbed the bounce of the road these cars handed much better than other vehicles on the road. I found that I could drive my 1957 Plymouth off the highway at highway speed into the ditch without incident and practiced the process as a safety measure for avoiding a problem on a road. My mother was not impressed the first time I demonstrated this technique with her aboard. I had equipped my 57 with seat belts which at the time were not even optional equipment but were known to be much safer for driver and passenger.

the other impressive innovation that came with the 1957 model was the transmission. The automatic transmission that Chrysler was using in these cars was much better, lighter and more durable then either found in Fords or Chevies. But the use of push buttons was a nice twist and Ford installed that idea on its over priced Edsel of the same vintage. My transmission developed a leak and continued to function until almost completely empty and then with more transmission fluid worked just fine.

In this example the body work looks excellent but Chrysler had problems with these cars as they were built to be lighter than their rivals and tended to pick up rattles and often seemed poorly made.



But you have to wonder about the attitudes of both the designers and the manufacturer to place before the public was was clearly almost verging on "funny car" design. My belief is that it was the times, the fifties were a time of relief from the horror of war, there was an atmosphere of challenge and excitement and perhaps Chrysler was in tune was a sizable portion of the population.

In 1958 music was just as diverse with Calypso filling the radio play lists and equally popular was the salty folk music of a whole range of performers. The American black movement had begun to stir in 1956 in Arkansas and in 1958 the US president was struggling with a heart condition with two years left in his term. While in Canada we were definitely into political tail fins as we elected a landslide support to Prince Albert Lawyer John Diefenbaker

In the world the United Nations deployed its first real peace keeping mission to the middle east following the 1956 Suez Crisis and a Canadian diplomat Lester B. Pearson was given the Nobel Peace Prize for his efforts to put that force in place.

Perhaps the splashy 58 Fury is what people needed to get around but the average car buyer was sticking to more conservative Ford and GM machines and many believe that the radically designed Chrysler cars almost destroyed the company. When it was time to trade off my tired 57 Plymouth I went to see what Roy Ransom had on his lot in Kipling. I parked my old black and yellow machine on his lot and began looking around then went inside to talk to Mr. Ransom about some prices. He looked out the window and saw my car then said tersely that he was more than willing to show me some cars but first would I park my Plymouth around back because he didn't want anyone to see one of those things on his lot.

This coupe was a luxury model and you will note it has the spare tire up on the trunk lid, this was a feature of the top of the line Imperial model. To fill this car up with gas you flipped one of the tail lights aside to reveal the filler spout.

These pictures were taken on a Regina mall parking lot by R. W. Shire and when we discussed them I noted how conservative car design is today compared to these and R. W. pointed out that perhaps it was better that things stayed that way. He never shared my enthusiasm for my ole' 57 as he was driving a 52 Chevy when this car was made and replaced it with a 59 Ford. No big tail fins in his garage.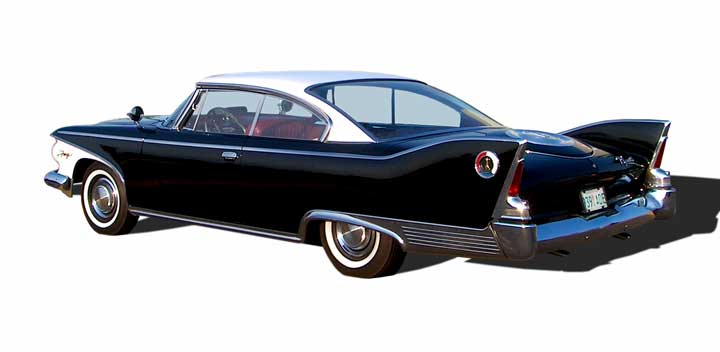 Editor's Note: Looks like we got this one wrong, readers
have told us
that this is a 1960 Fury.
---
Return to Ensign - Return to Saskatchewan News
This page is a story posted on Ensign and/or Saskatchewan News, both of which are daily web sites offering a variety of material from scenic images, political commentary, information and news. These publications are the work of Faster Than Light Communications . If you would like to comment on this story or you wish to contact the editor of these sites please send us email.
Editor : Timothy W. Shire
Faster Than Light Communication
Box 1776, Tisdale, Saskatchewan, Canada, S0E 1T0
306 873 2004