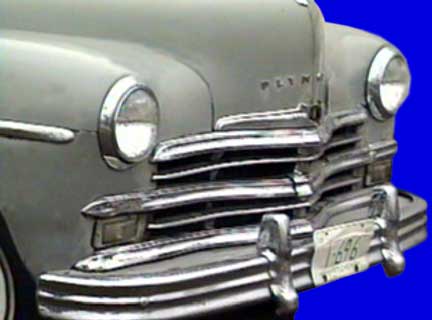 This is a work in progress. The owner was given the car because he is a skilled mechanic and the former owner did not have the resources to restore it to a usable condition.

I spotted it sitting in a yard in North Saskatoon and stopped to look it over. the owner drove up and told me the story of the project. He has been able to obtain almost all of the parts he needs from a parts collector South of Moose Jaw. The engine is in first rate condition as he started it for me. I was surprised at how smooth it ran. He is converting it over to twelve volt to improve its starting but no other modifications to the stock condition of the vehicle are planned.

The owner, "Ron" has some original advertising prints from Chrysler showing the car as it was advertised in its time and his plan is to restore it to the condition as seen in the advertisement in a rich blue paint job. If you happen to know where Ron could get a hold of a horn ring he would really appreciate it, cars of the era had a ring mounted in the steering wheel to sound the horn and this one was a chrome affair and is missing. Ron's phone number is 306 652 4674.

In the history of Ensign we have had several stories about restored or running cars like this one and they have resulted in a large number of inquiries from all sorts of places including Australia. People using search engines discover the stories and after looking at the pictures have sent Ensign email and oftern correct errors about details on the cars in the pictures.