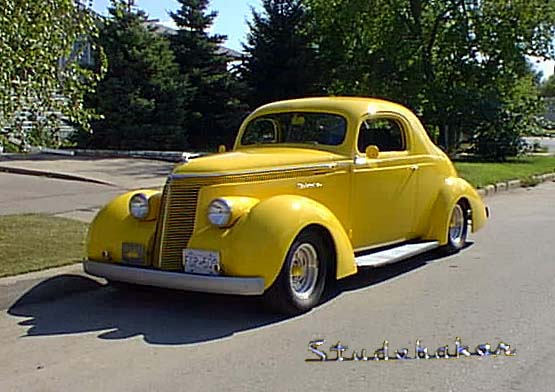 FTLComm - Tisdale - September 11, 1999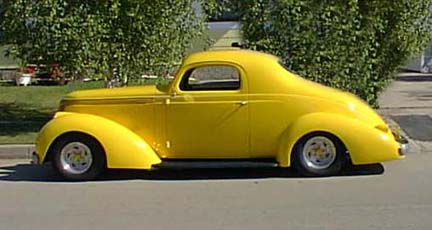 This prewar Studebaker is a "street rod" a modestly customised version of the original that updates the vintage car to fit into the modern era. The owner of this car phoned me to give me the details on the car but unfortunately the number he left on the machine made it impossible for me to return his call.

The classic design of the mid thirties distinguishes this dandy and the custom work has not confused the image the original look was intended to give. The modern chrome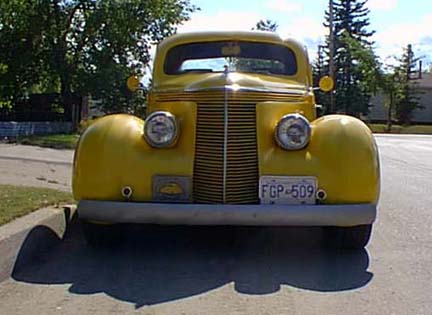 wheels and lowered suspension, had they been available at the time, would have been just what this car needed when it came out of the showroom and onto the streets.

Studebaker went out of car production right after this car was made and turned its attention to war time vehicles. When the war ended its designers had already snapped up the trend of the late forties and were into production with the most futuristic designs of the period with jet engine front ends and like this classic swept back tail ends.

The custom work on this car involved both the front and rear windows which had formerly had visible dividers in them. The glass on this car is beautifully done to make the divider disappear as can be seen in the picture below.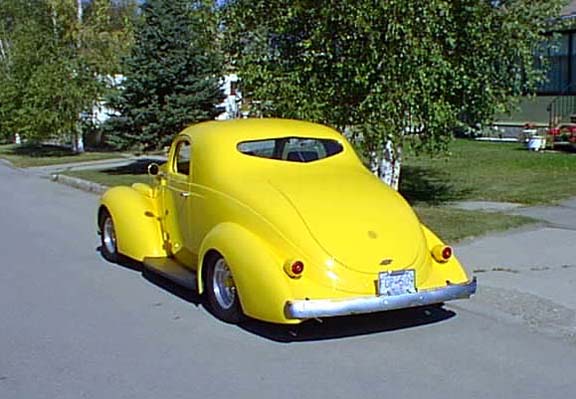 This picture shows the attention to detail that the people who worked on this car have given. Though fitted with a modern sound system it is not distracting from the car's original design and the CB radio is invisible from this angle.

A modern steering wheel and steering column has been added to the car and looks so well integrated that at a glance it is not even noticeable as something that radically added to the original car.

The upholster is outstanding and contrast just enough with the car's dazzling yellow to give the interior a feeling of comfort and luxury to go with a custom made vehicle.

The classic fender and trunk picture below are 100% Studebaker.